Summary:
International fashion weeks bring what will be rocking in Spring/Summer 2023;
Get to know the best trends to succeed in your next fashion collection;
Want to boost agility and creativity when launching your collections? Audaces Fashion Studio can be a superb ally. Download Audaces360 multi-solution now!

International fashion weeks, such as the ones in New York, London, Milan, and Paris, brought a lot of big news! Based on them, the main style bureaus worldwide develop what will be trending in the Spring/Summer 2023 season.
By watching these fashion shows, we have the chance to preview what the brands are investing in, considering customer behavior.
Check out next the main Spring/Summer 2023 trends and find out how to make the most of them in your fashion collection launch!
Happy reading!
Top Spring/Summer 2023 fashion trends
Vibrant colors, sparkles, joy, sensuality, and bare skin are some trends we can detect when watching fashion shows around the world.
Check out more details about the best moods and details seen on the catwalks:
1) Glitter and sequins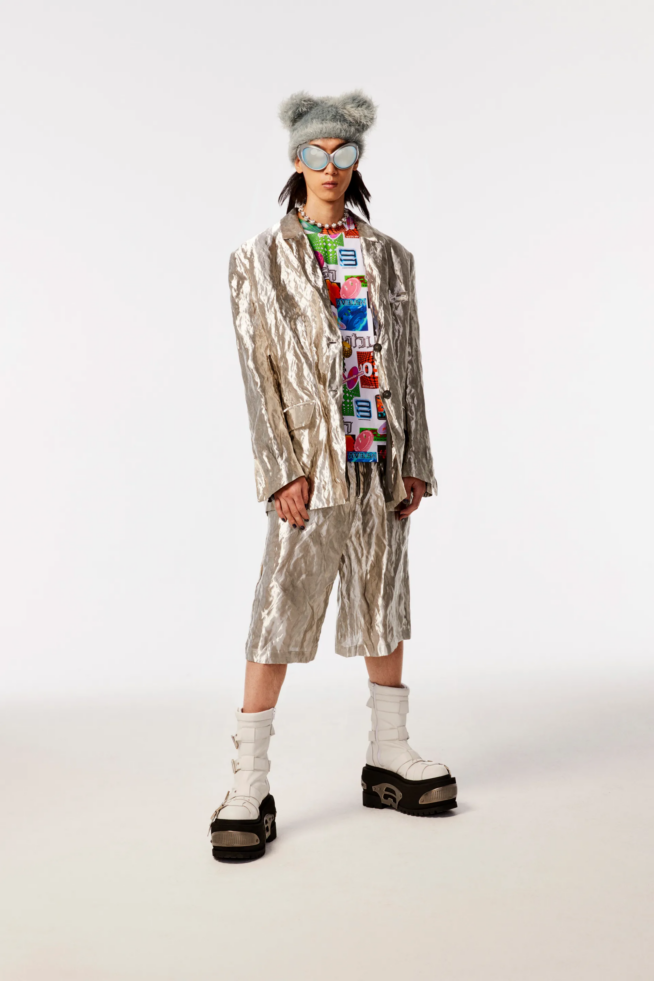 It's time to shine! For those who like glitter and sequins, this is the best season to celebrate and have fun with some sparkling styles, as these items dominated fashion events.
They were seen in dresses, blouses, and pants in a très chic way! Brands like Chanel, Valentino, and Balmain brought the perfect dose of luxury, with sparkles and sequins.
The trend symbolizes the moment of optimism in the post-pandemic period and is influenced by the whole metaverse sensation.
2) Pleats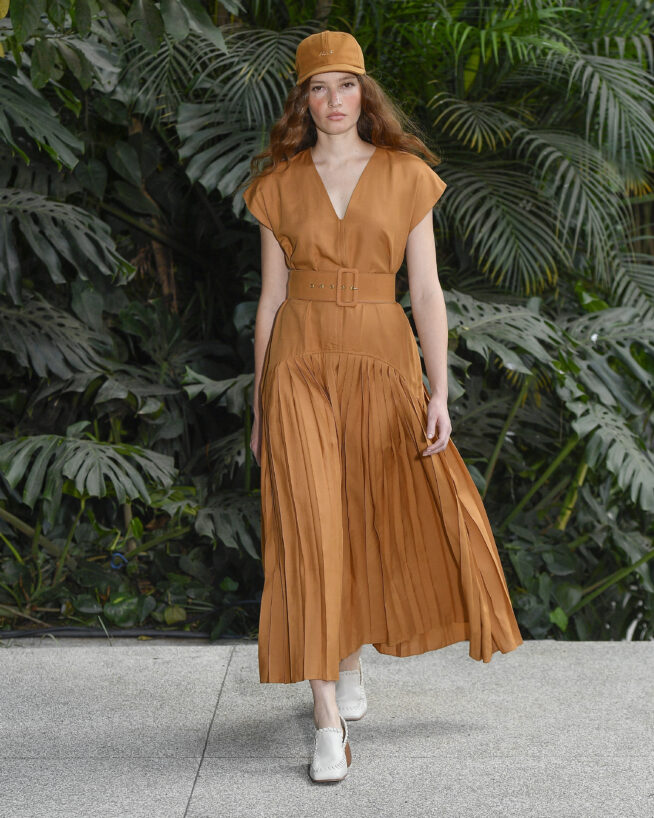 The pleat is another trend that is coming strong this season! Glamour is rising and, with it, tighter pieces with pleated details that mark and outline the body.
Midi and maxi skirts with pleats also made a comeback, bringing elegance to productions. These pieces can be used in looks for work, day-to-day routine, and for night outs – why not?
3) Asymmetric cutouts and holes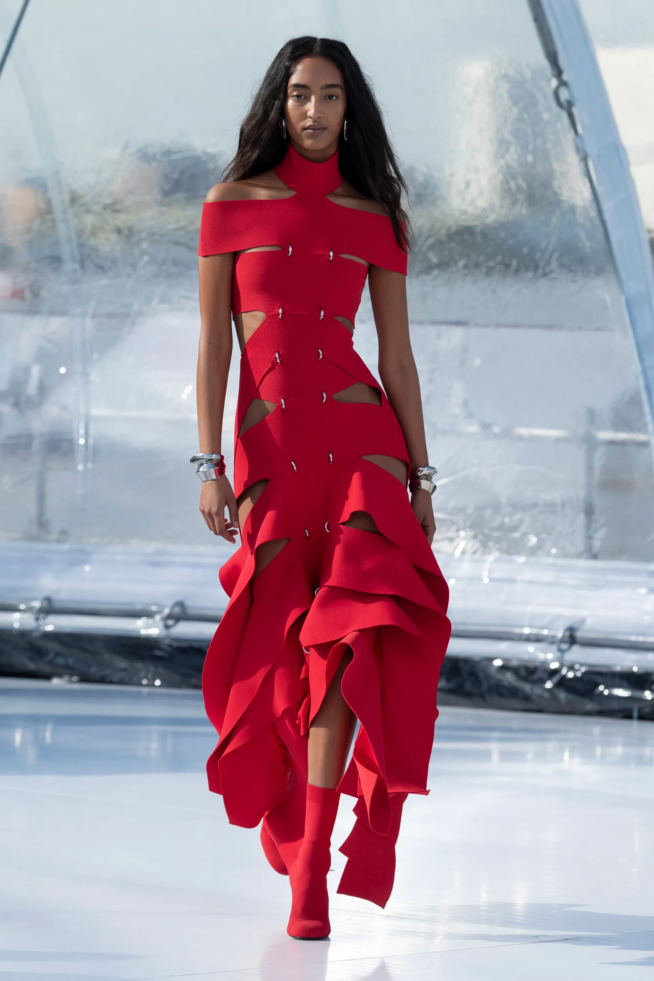 Anyone who likes to show off their skin on hot days or cooler days will love this trend. Mini length, cutouts, slits, and deep necklines are one of the main details of the season!
Another trend that drew attention and that is coming very strongly for Spring/Summer 2023 is the cut-out. Asymmetrical cutouts appeared on shows by brands such as Christian Siriano, Rodarte, and Proenza Schouler.
4) Transparency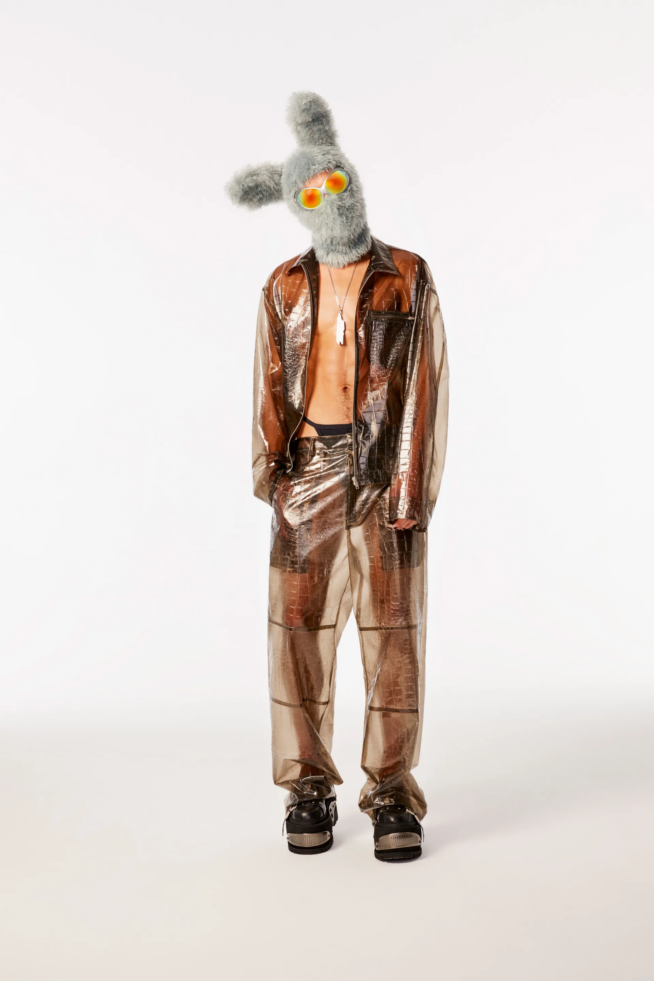 Elegant and sexy, transparency remains classy for Spring/Summer 2023. Strategic body parts are revealed, but without being left out – which brings even more sensuality to the pieces.
In general, the waist and the hip are still well-marked in transparent pieces. Sensuality at its best!
The trend appears in skirts, dresses, shirts, and even pants.
5) Fringes and feathers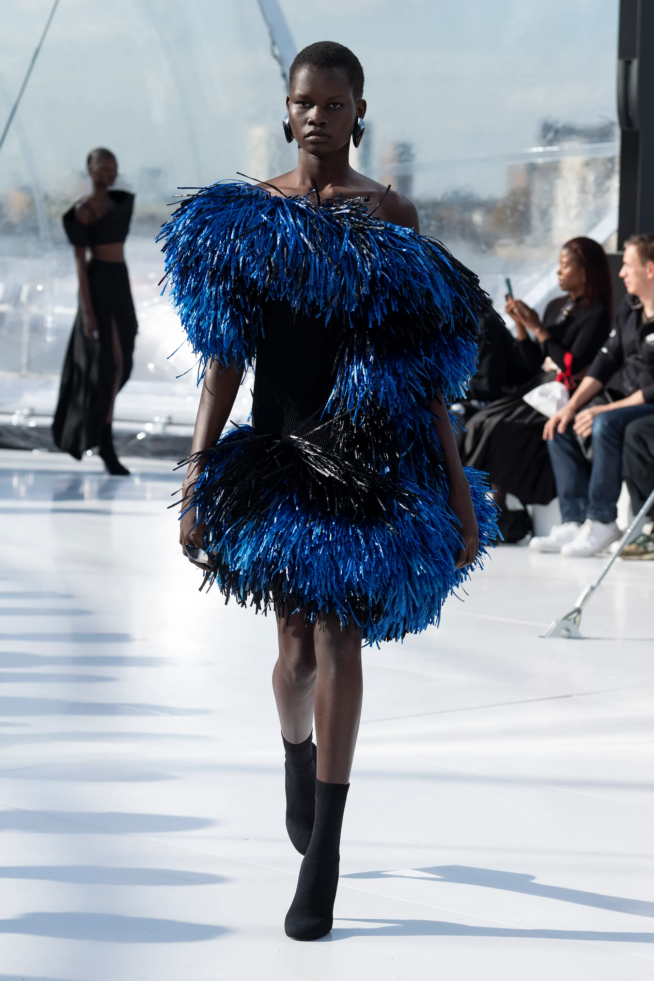 Fluidity, lightness, movement, and freedom. All these sensations are present on the catwalks thanks to the beauty of the feathers and fringes.
Dior, Balmain, Chloé and Brazilian brand PatBo were some of the fashion houses that brought this trend that enrich any style!
Beyond clothing, shoes, and accessories also must these lovely and dynamic details.
6) Crochet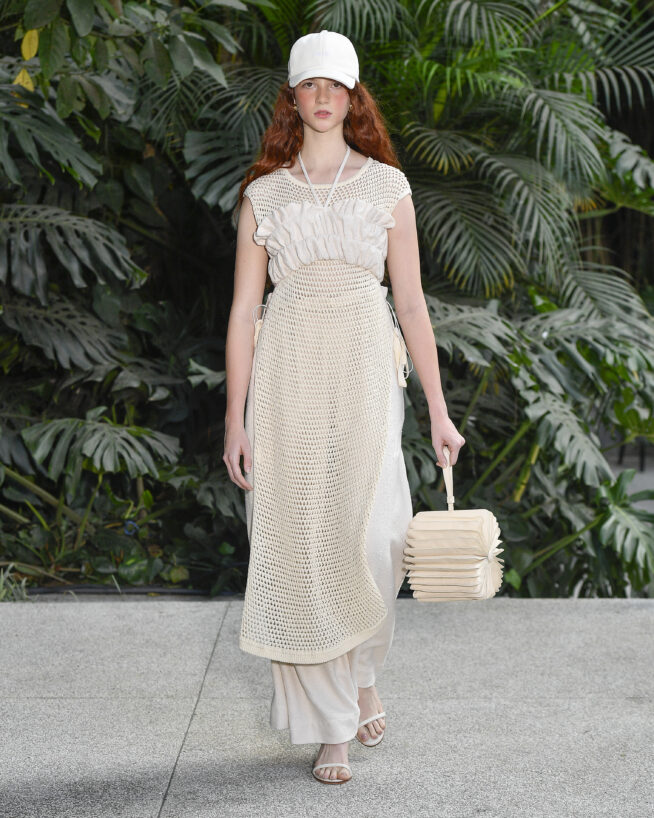 Brazilian fashion house PatBo brought many trends to its debut at NYFW, which was a blast – the brand appeared among the highlights of the event thanks to beautiful crochet pieces.
Crochet is still on the top for the Spring/Summer 2023 season. In addition to it, other textures made by hand might be rocking the streets! Enjoy the sun and the bright days with these super-cool outfits!
Learn more: 4 top tips for a successful fashion collection launch
Trendy styles for Spring/Summer 2023
Knowing the trends is an awesome way to get inspired to create your fashion collection! Some styles might be seen frequently in the coming months.
Find out what they are:
7) Rocker 
If you think that leather pieces are only used on cold days, you should know that in 2023 they will be on the streets during the hottest season! A few years ago, the "Tumblr aesthetic" was THE thing — and it might be making a comeback.
Leather appeared in several shows, such as Chloé and Versace, that brought the Rocker aesthetic to Spring/Summer 2023.
This style shows off in tank tops, plaid shirts, jeans, dresses, lingerie, and in color combinations such as black and purple. Darker clothes, with rips and band logos also appear among the most searched inspiration of looks on Pinterest.
Learn more: Learn how to choose the best clothing collection names
8) Y2K 
When it comes to the Y2K aesthetic, we need to go back in time a bit. In literal translation, Y2K means "year 2000". This means that the trend brings the aesthetics of that period back.
It returns to the fashion and pop culture experienced 20 years ago and is being reinforced by influencers, mainly from generation Z.
Mixing retro and futuristic, this style is all about sparkle, pleated skirts, micro sizes, low waists, baguette bags, bright colors, tie tops, and more!
This era is also characterized by double jeans, bandanas, baggy pants, platform shoes, and print designer logos.
Often controversial, Y2K trend carries a love-it-or-leave-it personality.
9) Athleisure Couture 
The trend unites two words in English, athletic (athlete) and leisure (leisure).
Maybe you're already on top of this trend and don't even know it! Athleisure Couture unites comfort and beauty and is gaining more and more space among fashionistas. For this reason, it could not be left out of the main Spring/Summer 2023 trends.
This style brings clothes that would normally be seen in gyms or sports venues. Therefore, its fans are looking for more flexible and comfortable pieces.
The Athleisure Couture era comes up with pieces like leggings, joggers, sweatshirts, bomber jackets, tops, cropped pieces, caps, shorts, sneakers, and flip flops.
Learn more:  Why consider sustainable consumption and production for your company?
Colors that are trending for Spring/Summer 2023
Beyond the composition of the looks and the fit of the fabrics, another element drew attention on the catwalks of the fashion weeks: the colors!
Summer calls for strong, vibrant colors, and that's exactly what the shows delivered. Shall we talk about the options that stood out the most?
Here they come!
10) Neon yellow 
A color that is the face of summer is neon yellow because its tone brings life to the look.
This color can be used in plain and patterned pieces and also in beachwear, contrasting very well with the tanned body and metallic accessories.
Purple
A strong and dramatic color, purple brings personality and a more sophisticated touch to the pieces.
The color matches plain and color block pieces, and also overlays with lilac and pink, for example.
11) Orange 
Another color that brings a summer reminiscence is orange, applying vivacity to the look. Warm and strong tones are one of the season's hot topics!
Try to match orange with other bold colors like purple and yellow, or even red.  It will be fun and classy!
12) Red 
A sensual and cheerful color, red is the ideal choice for those who want to liven up their looks.
It can be used with other strong or neutral colors, as it's super easy to combine. You will see it also in accessories, makeup and shoes. Enjoy!
Learn more:  Check out 3 infallible tips to assemble a fashion product mix
Trendy fabrics for Spring/Summer 2023
The fabrics also change according to the season. Therefore, those presented in Spring/Summer 2023 catwalks have burst onto the scene!
Find out what they are so you can invest in:
13) Denim 
Denim is present in all seasons of the year. However, in every new collection, there are some novelties and different details that make the pieces made in this fabric so desirable.
Denim is classic, but it may not be basic. It matches all types of pieces, whether they are printed, plain, asymmetrical, or cutouts.
This season, as in previous seasons, wider jeans gain strength, in several different models – including low-waisted ones.
But, of course, it's not just for pants! This fabric is very versatile and can also be used in shorts, skirts, jackets, blouses, dresses, and even shoes or accessories. Let your creativity out!
14) Metallic fabrics 
With a futuristic vibe and driven by novelties from the metaverse, metallic fabrics are also highlighted among Spring/Summer 2023 trends.
They are perfect for those who are daring and creative. In addition, it is super eye-catching for evening looks – but not just for them (depending on the occasion, it can be used during the day)!
15) Mesh 
The mesh is loose, light, cool and still has a great fit. This type of fabric is a guarantee of comfort for the hottest summer days and could not be left off our list!
Learn more:  What is digital clothing and how does it impact the fashion industry?
Create your collection based on the top trends using Audaces software
Audaces has technologies that help clothing companies plan and launch collections more precisely, considering the main Spring/Summer 2023 fashion trends!
Learn how our software can help your business to be more assertive:
Audaces Idea 
For those who want to bring more agility and improve communication between all the members of the creative team, Audaces Idea is the ideal software.
The tool standardizes and brings precision to the processes. With it, you can view the fashion collection in 360º, in addition to testing models, estimating costs, and integrating the development of the technical drawing with the technical sheet.
Audaces Isa 
With Audaces Isa, a complete software, you can manage your product's life cycle for launching fashion collections.
In addition, it is possible to guarantee the execution of the schedule at the right time, helping to make more assertive decisions and organizing the entire technical part of the collection.
Audaces Fashion Studio
A software that allows you to create models in a three-dimensional environment, optimizing time in the development of sketches. Furthermore, with Audaces Fashion Studio, it is possible to integrate the creation and production stages.
Find out how Audaces software can help you. Download now our e-book for free and be more assertive in assembling your launch:
FAQ
What are the main Spring/Summer 2023 fashion trends?
Vibrant colors, sparkles, joy, sensuality, and bare skin are some of the top trends seen on fashion shows worldwide. Rocker, Y2K, and Athleisure Couture are the styles to watch during the season.
Which colors will be trendy in Spring/Summer 2023?
Summer and Spring call for strong, vibrant colors, and that's exactly what the fashion shows delivered. Neon yellow, orange and red are the ideal choice for those who want to liven up their outfits.
What are the fabric trends for Spring/Summer 2023?
The fabrics also change according to the season. The ones presented in the Spring/Summer 2023 catwalks were denim, metallic, and mesh.