Summary:
Fabrics with a perfect fit are essential for the success of your fashion collection;
Discover the ideal fabric to achieve the desired shape of the garment;
Test the fit of the fabric in a 3D environment with the help of Audaces360 multi-solution at no cost! Get the free trial now!

The perfect fit and texture of the fabric are the first elements people notice when they lay their eyes on a piece of clothing. And this perception is unique for both the wearer and the observer.
Therefore, it's essential to understand the best type of fabric to achieve the desired fit and how this can enhance the look of the final product.
Discover how to pick the fabrics with the perfect fit for your fashion collection to ensure its success in sales.
Enjoy the read!
How to choose the perfect fabric for each piece?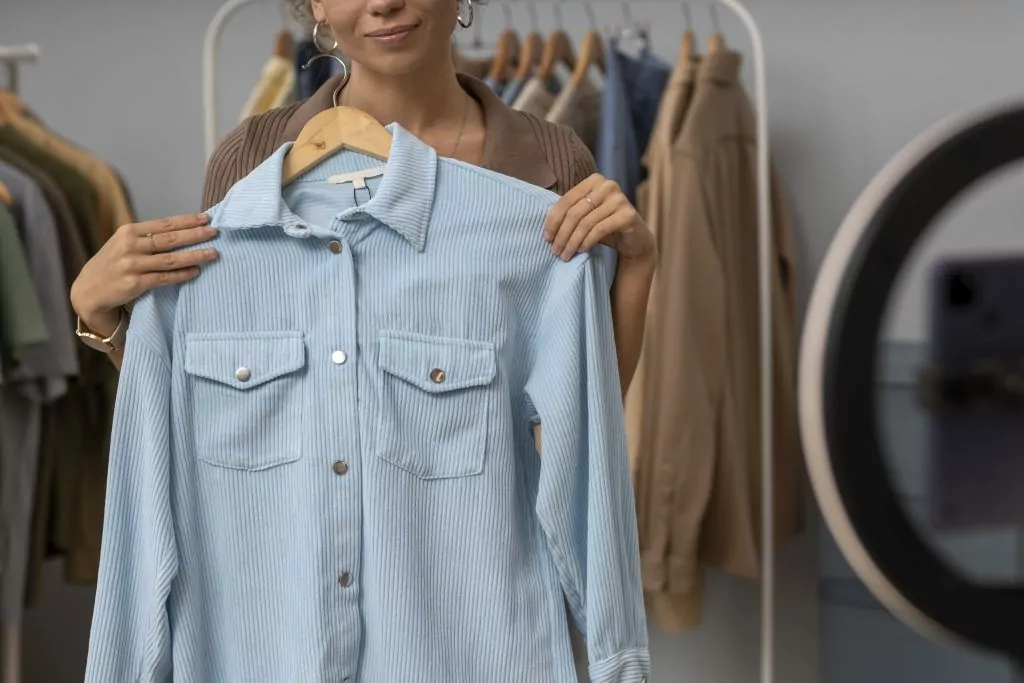 When planning a fashion collection, colors, prints, and shapes are essential considerations.
However, it is also essential to ponder the fabric used to create each piece. If you want to ensure the fabric suits your designs perfectly, keep the following tips in mind:
Consider the season the garment will be used
When selecting fabrics for your collection, it's important to consider the season in which they will be worn – that's a good starting point!
Light and airy fabrics such as cotton and viscose knits are ideal for warm weather, such as the Spring/Summer season.
Bulkier, heavier fabrics like cotton and polyester, on the other hand, work better when the cold days arrive.
Analyze if the material is suitable for the occasion
When selecting a fabric, it is recommended to bear in mind the occasion on which the garment will be worn.
Visualize the scenario in the most precise way and take into account all the specifics.
For instance, a delicate, lightweight fabric might be appropriate for a summer dress, but it is not suitable for a blazer, which requires a more structured material to convey a formal look for a professional environment.
Choose the right fabric for the piece
There are several types of fabrics that may or may not match the piece you are developing. When creating a design, you must choose the fabric that will best complement the intended shape and silhouette.
Structured items require a more voluminous material, while light and airy pieces are best suited to lightweight fabrics.
Incorrect selection can lead to an undesired outcome, so take the time to find a fabric that will bring your design to life.
Discover 9 fabrics with the perfect fit and learn when to use them
From soft and lightweight to stiff and heavy, fabrics come in a variety of textures and weights. Each one has its own unique qualities that offer different levels of flexibility and movement for garments.
We're here to introduce you to nine of the best fabrics for achieving a perfect fit, along with helpful tips on when to use them. Let's take a look!
1. Silk
Silk is renowned as one of the most luxurious fabrics in the world, created using the delicate process of sericulture from the cocoon of the silkworm.
This delicate process can be adversely affected by climate change and other environmental factors, making the fibers fragile and delicate. With its light and flowing fit, silk offers a timeless look of sophistication and elegance.
It can be found in a variety of solid colors and elaborate prints and is used to craft stylish pieces such as shirts, wide dresses, kimonos, handkerchiefs, and scarves.
Learn more: 10 tips on creating an eye-catching fashion visual merchandising
2. Jeans
Jeans are a wardrobe staple for many people and come in a variety of styles. They can compose more structured pieces or even more fluid ones.
They are typically made from thick denim that may contain elastane, allowing them to stretch and fit the body without squeezing or pinching. This type of denim is ideal for creating trousers, skinny or wide-leg pants, skirts, jackets, dungarees, shorts, and salopettes.
For tops, a lighter and fresher type of denim is used, also allowing for the creation of shirts, and dresses.
The denim fabric provides a perfect fit for every item, depending on its function.
Learn more: 8 tips for a successful fashion photoshoot
3. Tricoline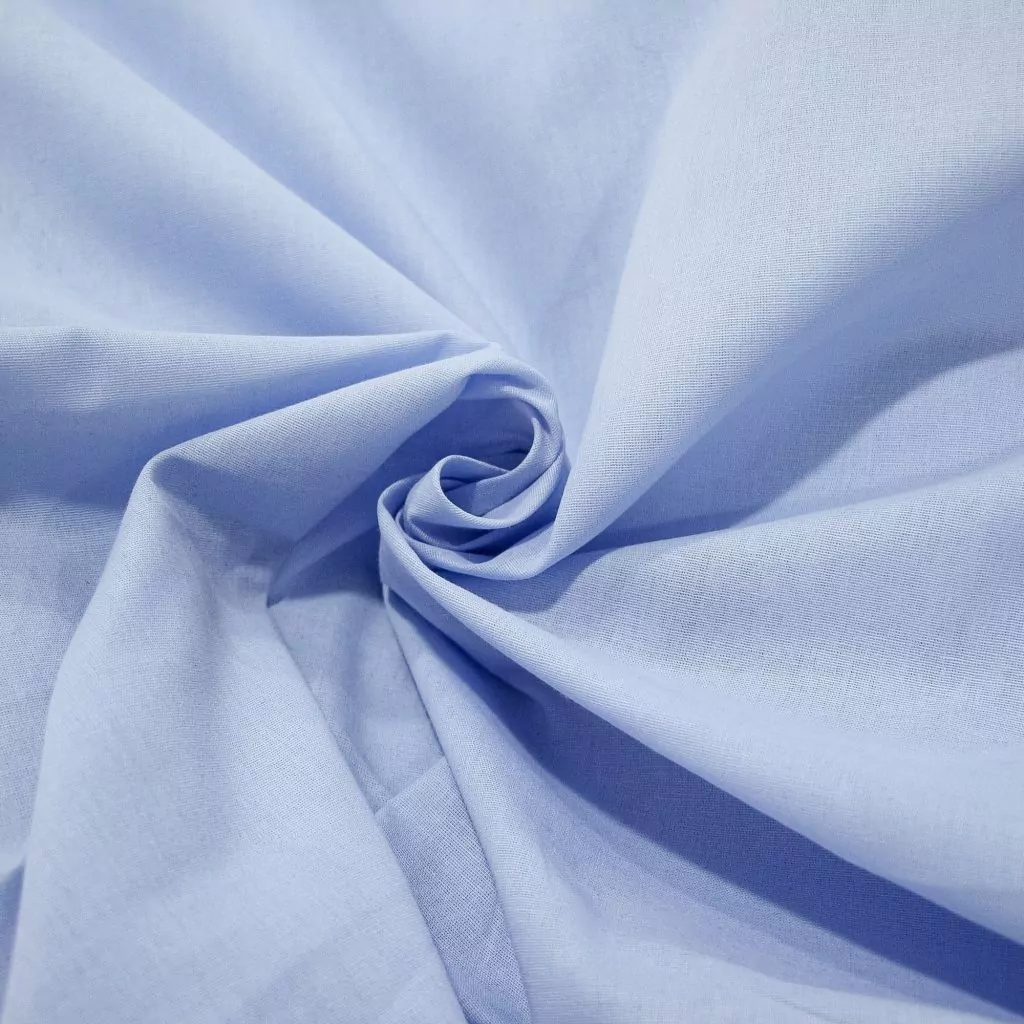 Tricoline is a highly adaptable 100% cotton fabric that won't fray and provides a pleasant temperature.
Due to its flat weave, the material possesses no stretchiness. It is commonly used to craft garments like shirts, skirts, dresses, and overalls.
4. Satin
Just like silk, satin is also renowned for its thinness and luminosity. It is a synthetic fabric created by interlacing, which generally has no elasticity.
However, there are varieties with elastane, allowing for a more flexible fit.
When selecting the right fabric for your project, it is important to consider the different characteristics of satin.
The 100% polyester satin, for example, is full-bodied and has a more pronounced sheen, making it suitable for party wear, structured skirts, linings, and scarves.
Satin with elastane is lighter and allows for a relaxed fit, making it ideal for lingerie, pajamas, t-shirts, and tight dresses.
Learn more: Satin: discover the luxury and versatility of this ancient fabric
5. Mesh
Mesh is a lightweight, soft fabric crafted from 100% synthetic fibers.
It provides an exceptional range of motion and comfortable elasticity, making it perfect for those seeking unrestricted movement when getting dressed.
Incredibly versatile, mesh is used for a variety of garments, from children's and pet wear to tees, skirts, shorts, and dresses.
Learn more: Cutting fabric: quality and precision, how to achieve the objectives
6. Zimbeline
Zimbeline is a 100% polyester fabric that is characterized by its firmness and lack of stretchability.
Its thickness prevents it from conforming to the body, making it an ideal choice for formal attire such as bridalwear and graduation dresses.
7. Laise
Lightweight and breathable, Laise is a fabric often used in warm weather.
Its cotton construction is perforated with tiny holes, making it an ideal canvas for intricate embroidery designs, from florals to geometrics.
It is often seen in the form of dresses, shirts, cropped pieces, and shorts.
8. Oxford
Oxford fabric is renowned for its crease resistance and shrink resistance.
Its light variation, Oxfordine, is similarly known for its wrinkle-proof and shrink-proof qualities, with the only difference being its structure – the former is more form-fitting, while the latter is more relaxed.
Both fabrics are used for a variety of purposes, such as elegant shirts, uniforms, and even sportswear
9. Microfiber
Microfiber is a fabric crafted from tiny and slender polyester filaments. It has no stretchability and is very resistant. This fabric is often used for sports apparel, bikinis, swimsuits, and other beachwear.
Learn more: How does technology in fashion impact the textile industry?
Which fabrics offer the best fit for each type of garment?
Selecting the perfect fabric for your piece to have the perfect fit can be a challenge.
Fortunately, there are some ways to choose the ideal fabric for your garment. Consider the following points when making your selection:
Fits for tops
If you're looking for fabrics to make blouses with a perfect fit, cashmere, and silk are both excellent options.
Cashmere is luxuriously soft wool sourced from the Kashmir region, while silk is a noble fabric produced by moth larvae and renowned for its strength, softness, and fineness.
For coats, fabrics like twill and tweed are both excellent choices. Twill is a sturdy fabric that offers a neat fit. On the other hand, tweed is a robust, carded wool fabric, perfect for winter weather due to its durability.
Fits for bottoms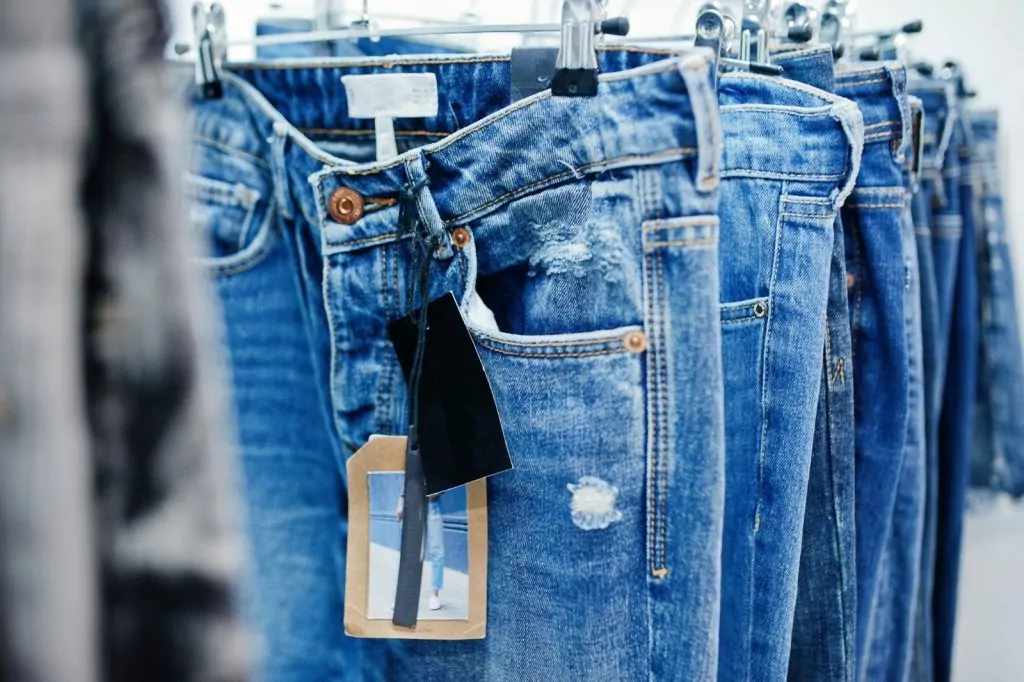 As said before, when selecting fabrics for bottoms, it's essential to think about the diverse occasions for which they will be worn.
Denim fabric is ideal for those who need a type of pants that is form-fitting, sturdy and won't crease easily.
Wool crepe and chambray are great for skirts. Wool crepe has a pleasant texture for a cooler weather, and is comfortable with a great fit, while chambray's combination of cotton and indigo yarns makes it perfect for summer!
Fits for single pieces
When wearing a single piece, such as a dress, it is essential to consider how it will fit your body.
Length is an important factor to take into account, as it can drastically affect the fit of the garment.
In this case, crepe georgette is a great choice due to its grainy texture and timeless style that has been used in party dresses since 1910.
Chiffon is also a good option, as it lends a delicate touch to any look and is usually sheer.
How to use Audaces technologies to choose the perfect fabrics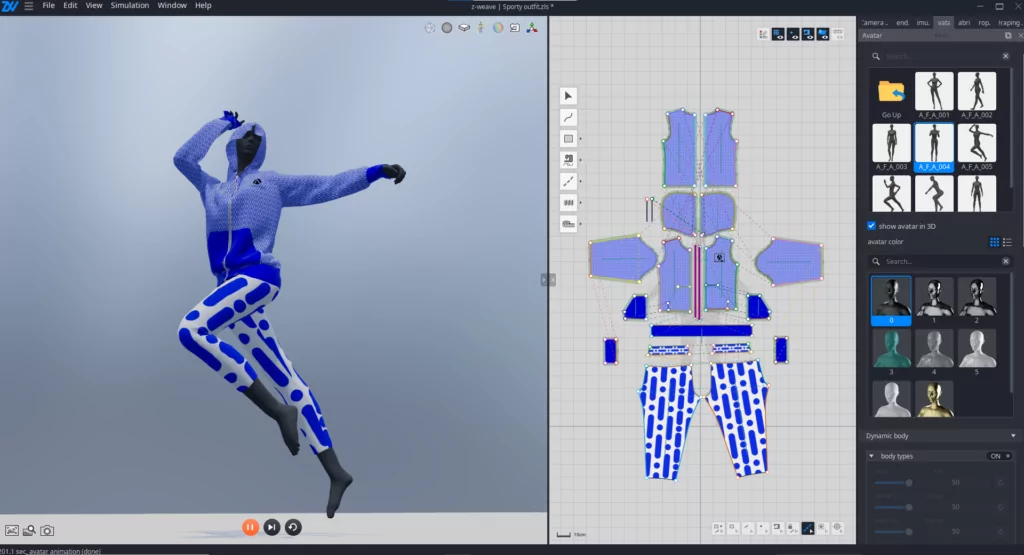 Perfectly fitting fabrics are key to the flourishing of your fashion collection!
Currently, we already have are software programs that aid apparel businesses to choose the best options 100% digitally, with more accuracy, swiftness, and cost-effectiveness.
Uncover how each one of them operates!
Audaces Fashion Studio
Audaces Fashion Studio is a software that enables you to craft models in a three-dimensional space, saving time in the creation of sketches.
It also integrates the design and production stages of your fashion business.
By using Audaces Fashion Studio you can:
Easily create 3D models without having to manually design them;
Visualize your own fabrics, colors, and finishes in each model;
Display 3D designs for your clients to view and approve;
Reduce waste of time, money and resources;
Validate model variants;
Integrate your operations in real-time with print editors;
And many more features!
Audaces Idea
Designers and stylists seeking an agile solution for their work can turn to Audaces Idea!
This platform offers tools for technical drawing, sheeting, and automatic pre-costing to facilitate improved communication and ensure accurate production.
Audaces 3D
The perfect partner to help you overcome the challenges of collection development, eliminating tight deadlines, creation problems, and rework: meet Audaces 3D!
This software allows you to:
Approve drawings and modeling;
Verify fit and wearability of garments;
Approve the inital prototype digitally;
Reduce the need of physical pilot parts;
Save time and expenses with prototyping;
Create more sustainable processes;
Generate images for Marketing and Sales teams;
Enable a realistic online fitting room.
Conclusion
In conclusion, selecting the correct fabric for your collection is essential for ensuring the perfect fit for each piece.
Investing in knowledge about fabric and its fit can drastically alter the outcome of a garment.
For more information on this and other types of fabric, access our free e-book today:
FAQ
How to select the appropriate fabric for each garment?
Consider the season in which the garment will be worn, evaluate whether the fabric is suitable for the occasion, and decide on a style that complements the fabric.
What fabrics are best suited for different types of clothing?
It depends on the specific item you are creating, whether it be tops, bottoms, or a single item.
What are the ideal fabrics for a perfect fit?
The ideal fabric for a perfect fit is one that makes sense for the garment you intend to use. Therefore, the perfect fit will depend on your purposes.