Summary:
Fashion trend forecasting can help your clothing company create fashion collections that leave a lasting impression;
It allows you to gain valuable insights into consumer and market behaviors;
Discover the power of Audaces Fashion Studio, our revolutionary 3D fashion design tool. Get the free trial of Audaces360 multi-solution now!

Fashion trend forecasting, in short, is a study that aims to understand how consumer behavior and the market as a whole are changing.
It enables you to gain insights into prevailing consumption patterns and figure out which ones have a direct effect on your production.
Every aspect of your fashion business can reap the rewards of trend forecasting. After all, with it, you can identify the essential pieces your clothing collection needs to capture the public's attention, as well as the technologies that are disrupting the industry.
Find out more about how this type of research works, its importance for creating a collection, and how it can help improve production.
Plus, discover where to look for trends and stay ahead of the competition.
Don't miss out – read on and enjoy!
What is fashion trend forecasting?
Fashion trend forecasting seeks to discover what consumers want to see in the next f fashion collection launch.
Based on these preferences, experts compile a range of observations from around the globe, in addition to patterns recurring in fashion events.
These changes can linger in society for a while, or they may be fleeting – in the latter case, instead of trends, we call them fads.
Learn more: How does technology in fashion impact the textile industry?
How is trend forecasting conducted?
Trend forecasting is an in-depth exploration of the latest fashion trends. It is a process that requires careful consideration of various methods to acquire the desired results.
To begin, you need to identify the objective of your research in order to choose the best approach.
Common types of trend research include qualitative and quantitative techniques, as well as macro and microtrends. See more about them next!
Qualitative research
Qualitative research analyzes feelings, desires, yearnings, and other information that cannot be obtained through numerical data collection.
Through this method, it is possible to understand how consumers behave, based on their preferences.
That is because it allows for a more comfortable environment in which people are more willing to express their opinions without fear of judgment.
Quantitative research
Quantitative research pursues logical and rational answers, which can be presented in the form of graphs and tables.
Therefore, it is usually done through questionnaires or multiple-choice questions, clearly and objectively, in an effort to obtain the most accurate results.
Macro and microtrends 
Trends can be divided into two categories: macro and micro trends.
Macro trends are those that affect different segments of society, causing large-scale changes.
Microtrends, on the other hand, occur over a short period of time and reach a smaller group of people.
What are the benefits of trend forecasting?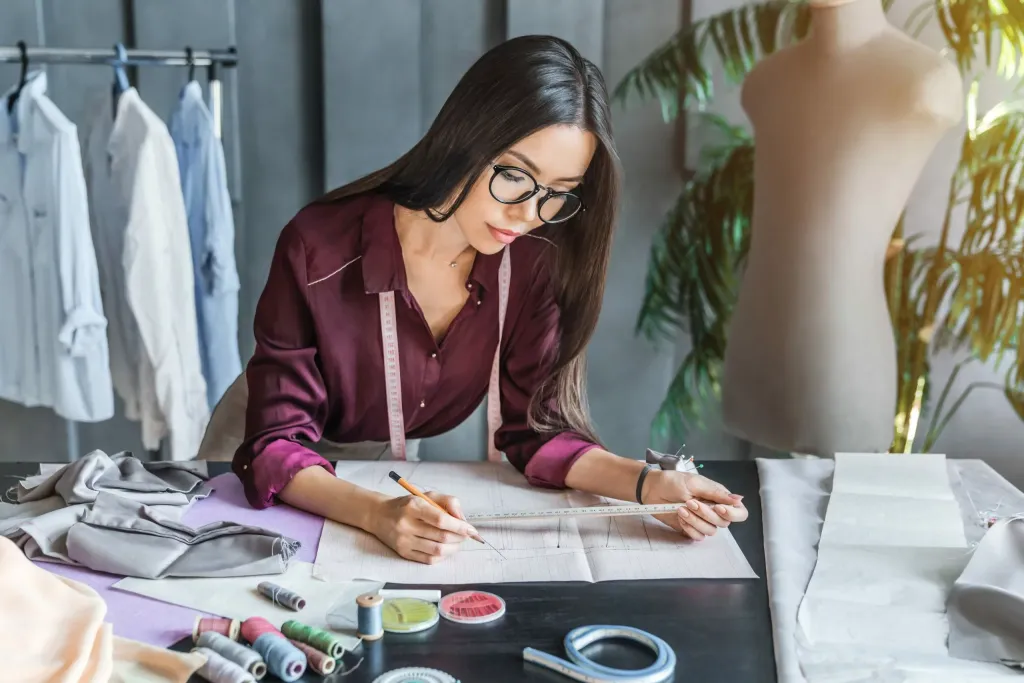 By understanding the fashion trends and the public that follows them, your company will have a greater chance of creating successful collections.
By doing fashion trend forecasting, you can learn what the public wants. Get to know some of the other benefits below!
1. Helps the Marketing and Sales team
Good trend research is essential for the teams responsible for the Marketing and Sales of the items. 
With the data collected, it is possible to develop strategies aimed at the targeted public that is really interested in consuming your brand. Moreover, you get to know what types of products to create, which fabrics to use, and even what colors are in season.
Researching fashion trends also allows the creation of assertive content for websites, blogs, social networks, and email marketing campaigns, for example.
With Marketing and Sales working together, chances are your brand will come up with collections that are in line with what the public wants – and will make them feel more confident when making the purchase decision.
2. Guides the company's goals
Trend forecasting can provide your clothing company with invaluable insight into consumer preferences, anticipating potential objections, and even identifying new technologies that can be implemented.
By aligning these findings with your company's objectives, you can improve its brand image and, consequently, drive profits.
With the help of trend research, managers are able to analyze paths to reach established goals and design a highly effective plan of action to achieve them.
Learn more: What is digital clothing and how does it impact the fashion industry?
3. Streamline production
Those who can forecast fashion trends can efficiently plan their fashion collection, allowing more room for creativity, seeking inspiration, and budgeting for materials.
You'll be able to compare suppliers, having more flexibility and freedom to let your imagination run wild. This ensures that your collection is delivered on time and without any rework close to launching dates.
Learn more: Learn how to make a fashion product catalog in 4 steps
Who can do trend forecasting?
Trend forecasting is vital for industries looking to stay ahead in the market.
Fashion in particular needs to stay on top of the latest trends to remain competitive – because they affect directly the process of creating pieces, which makes a collection launch more assertive.
Some companies, such as style bureaus, are specialized in researching trends on an annual basis.
But you don't have to rely solely on bureaus to access this information – you can do it yourself too!
To catch up with the latest fashion trends, follow recent national and international fashion shows, subscribe to newsletters from specialized companies and magazines, and follow relevant profiles on Instagram and Pinterest.
Also, observe how people are behaving: apply questionnaires and interviews to find out consumers' opinions and know how to search for these people in the right places to identify patterns.
Where to look for fashion trends?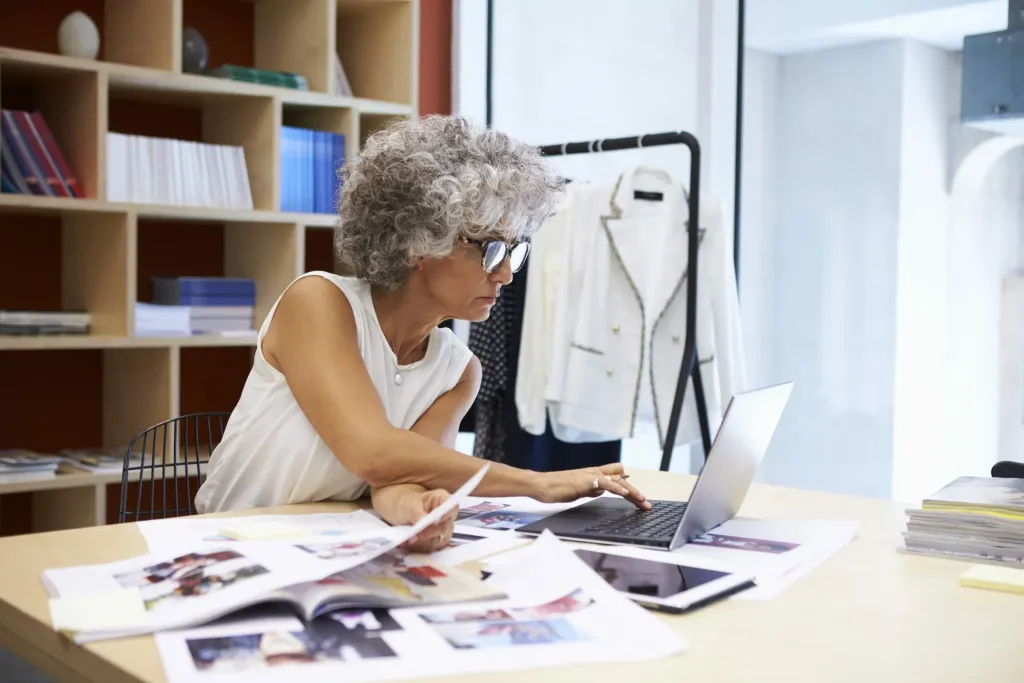 Today, social media is rife with content that helps to monitor and ascertain trends, such as how to behave and interact with the public.
Each type of social media offers comprehensive reports on its platform, which can be used for diverse trend analysis.
The advantage is that they provide varying outcomes to what you are in search of. Twitter, for example, has a hashtag feature that can be super useful when discussing large-scale events, like fashion weeks.
With this tool, you can keep tabs on what users are saying in real time and get a sense of their impressions on the subject.
On visual-oriented social media, such as Instagram and Pinterest, you can search for photos and illustrations to create mood boards, for instance.
TikTok, the current 'it' social media, offers short videos that have been dictating several trends.
By showcasing content from all over the world, fashion remains alive on the network. Recently, the platform was responsible for the revival of the Y2K trend, for example.
Of course, there are other tools that are perhaps not as famed as these, yet equally effective and able to aid your crafting.
Google Trends is one of them. This Google feature allows you to spot trends based on searched words, images, and videos – including in its Shopping tool.
In it, you can even view what were the main queries made on a specific subject to stand out with your content.
5 websites to study market trends
Research is an imperative component for gaining knowledge of market trends.
Therefore, to ensure you provide your audience with what they expect, it is wise to be aware of tools that can be beneficial to your process.
Keeping abreast of the latest international fashion trends is a must!
To help you stay up to date, we have compiled a list of 5 sites worth keeping an eye on. Check them out:
1. Trend Watching 
Top of our list is Trend Watching, a renowned trend site offering summaries of its primary reports via newsletters and blog content.
If your company wants to receive more in-depth information, you can opt for a paid version, as the site offers several types of plans.
2. WGSN Insider
WGSN Insider is a renowned trend prediction site and the go-to source for fashion industry trends, offering a wealth of editorials on culture, lifestyle and more.
Through the WGSN platform, you can explore future-defining consumer behavior and fabric choices used by international brands.
It's a great source of market insights, with the possibility of a real-time subscription to access exclusive content.
3. Kjaer Global
Kjaer Global is a trend-forecasting bureau providing excellent content based on the design thinking technique.
With insiders and experts located in global hubs such as London, Amsterdam and Copenhagen, the bureau helps organizations understand and leverage future trends.
4. Cool Hunting 
Cool Hunting is a site that provides news and trends in design, culture and technology.
For fashion companies, understanding consumer behavior on these fronts can help inform new collection decisions.
Cool Hunting also curates curiosities to keep innovation and knowledge relevant in pointing out trends.
5. Springwise 
Finally, there's Springwise. This website presents news through employees located in countries across all continents.
Like Trend Watching, you can access free content via a newsletter or blog. But for more specific reports, a paid version is also available.
How can Audaces help with fashion trend forecasting?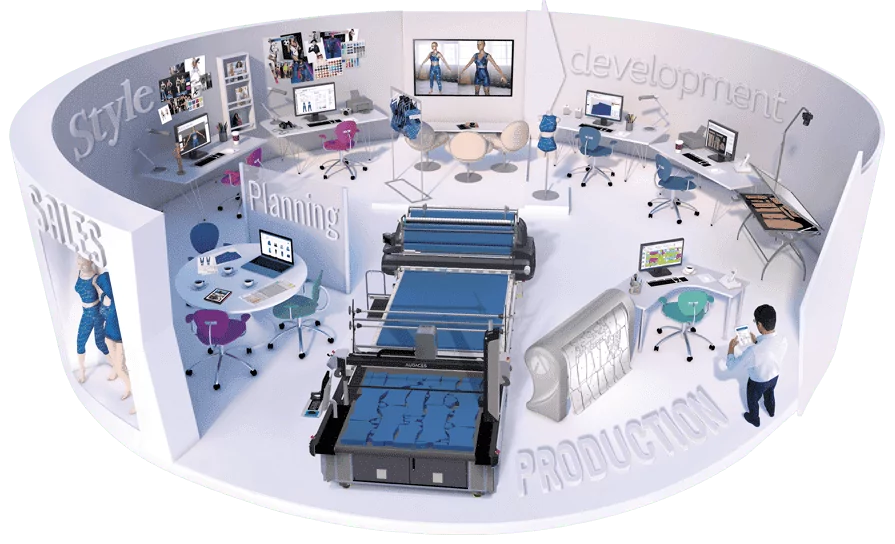 Technology empowers those who strive to stay ahead of the competition, delivering the best of the best.
That's why Audaces is always with you, providing the top-tier solutions for your everyday production needs:
Audaces360
Audaces360 is a complete multi-solution that helps you overcome the biggest obstacles in the fashion industry. It covers the entire process – from concept to completion – so you can be sure your collection will be a success!
Audaces Isa
Audaces Isa is an all-in-one, ultra-advanced program designed for those who need assistance in managing the fashion product life cycle. With it, you can easily orchestrate and track every step of your collection from beginning to end.
Audaces Fashion Studio
Audaces Fashion Studio enables you to design and redevelop models in real time. Plus, it integrates Style and Modeling functions with cutting-edge 4.0 apparel technology.
Conclusion
If you want to stay ahead of the competition and make fashion collections that sell out, exploring fashion trends can be the key.
It can be a transformative force in Production, Finance, Marketing and Sales.
Fortunately, there are companies that provide reliable surveys, offering both free insights and more in-depth paid reports.
But don't stop there – investigate by yourself consumer behaviour, sustainability, culture, technology, and other areas that can benefit your business.
Want more ideas? Download this free material to get the inside scoop on creating fashion collections that stand out from the crowd:
FAQ
What is fashion trend forecasting?
Fashion trend forecasting is an investigation into what fashion consumers are looking for in upcoming collections.
What are the advantages of conducting trend forecasting?
Carrying out trend research provides invaluable insights for Marketing and Sales teams, helps define objectives, and can even inform production decisions.
Where can I find up-to-date market trends?
Trends can be found on trend-watching platforms such as WGSn Insider, Kjaer Global, Cool Hunting, and Springwise.