Summary:

To develop an eye-catching fashion launch, it is crucial to look beyond fleeting trends. Selecting a trendy color chart is a key factor, and the hues and designs must be considered before conceptualizing the clothing collection.
This is because they provide inspiration and serve as a starting point for the overall conception.
Therefore, we are here to help you acknowledge the significance of the color palette in fashion and how it can enhance the visual impact of your designs, establishing a cohesive aesthetic.
Take a look below to learn more!
What is a color chart in fashion? 
A color chart helps to create a cohesive, unified look for the fashion collection.
Carefully chosen tones should be selected to complement the theme, garments, and prints, ultimately conveying the desired personality of the brand.
The color wheel and its combinations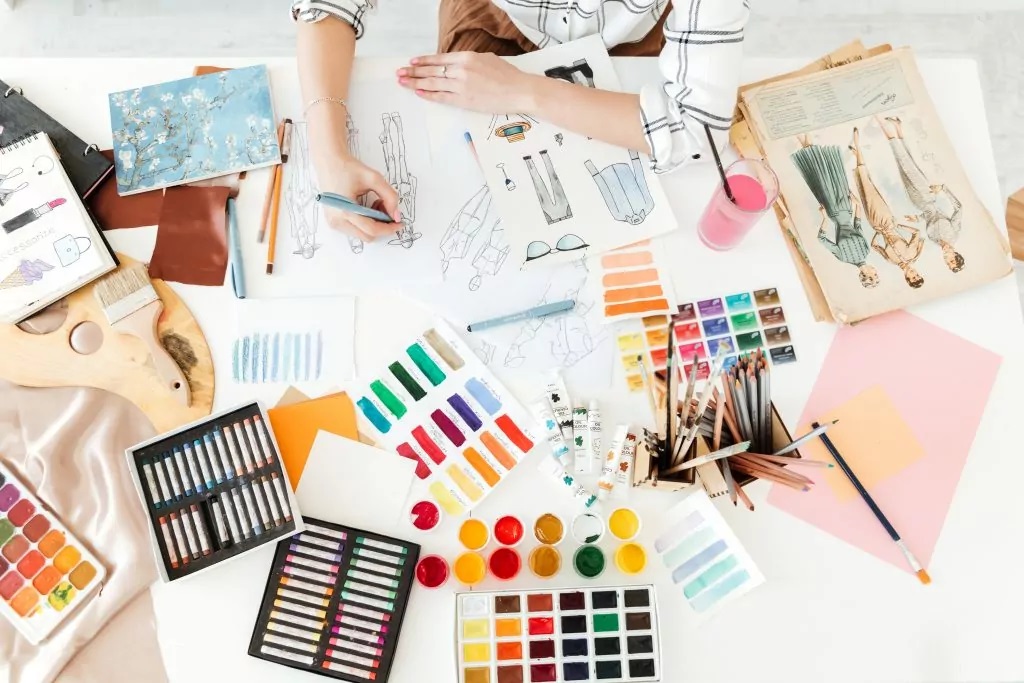 The color wheel comprises all existing hues, which can be classified as primary, secondary, and tertiary colors, as well as cool and warm tones.
In the context of fashion, the strategic use of color combinations can create a pleasing and harmonious aesthetic. This practice is called color matching.
Some popular combinations include complementary colors, analogous colors, and monochromatic tones. Find out more about the main ones below!
Monochromatic combination
A monochromatic combination is a harmonious blend of various shades belonging to the same color family. This type of color scheme is one of the most aesthetically pleasing and uses the same hues on the color wheel.
Analogous combination
This combination is a little more daring, mixing two adjacent shades on the color wheel, creating an analogous hue. This pairing of neighboring tones evokes a bold yet harmonious look.
Complementary combination
The complementary combination pairs two opposite and contrasting colors in the color wheel. This combination sparked the popular color-blocking trend.
Triad combination
This triad combination creates a vibrant triangle. Three tones that are equally spaced within the color wheel are used, lending a bright yet balanced look to your ensemble.
Learn more: Learn 8 tips for a successful fashion photoshoot
How important is establishing a color chart for your clothing collection? 
Colors, prints, and garment designs are the building blocks of a fashion collection, allowing it to convey its narrative and personality.
Establishing a color palette helps to reinforce the identity of your brand and the concept of the collection, without losing its essence.
Additionally, vibrant hues and complimentary shades bring energy to the collection and highlight a variety of skin tones.
All creations that refer to that collection – from displays in store windows to social media posts – should adhere to the color scheme.
That's because, when customers look at the collection, they must immediately recognize it and connect it to the message you wish to communicate.
After all, fashion and color combine to create a powerful language.
Learn more: 9 fabrics with the perfect fit to use in your fashion collection
How to create a color palette for your collection?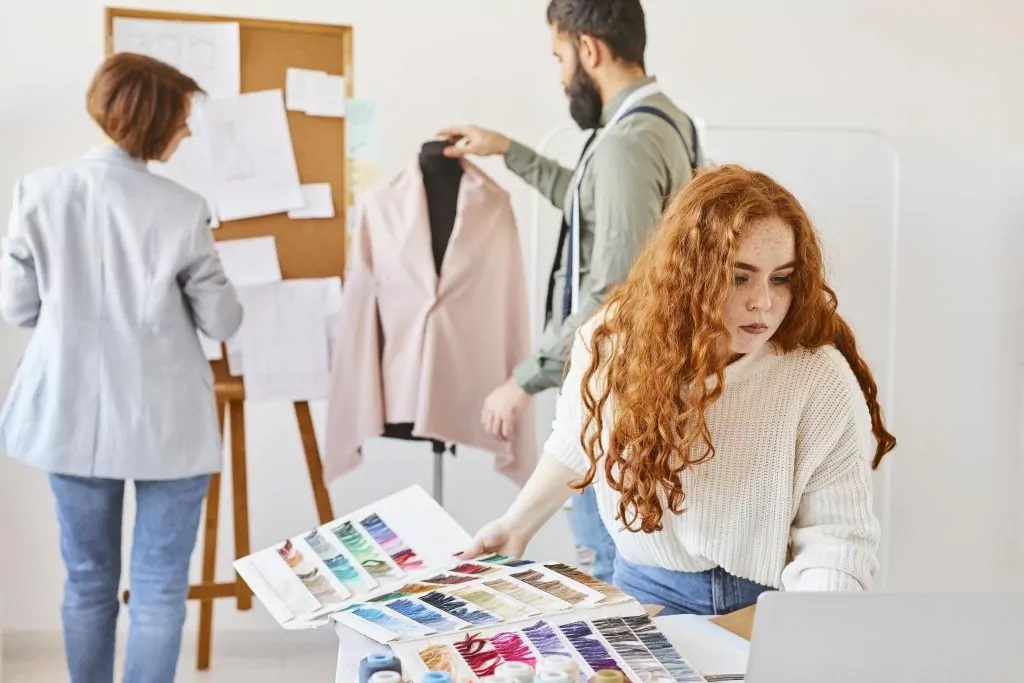 Typically, a palette comprises eight colors, with four cool and four warm tones.
Neutral colors should also be considered, with white being the sum of all colors and black representing the absence of color.
When selecting colors for your chart, the primary concern is to ensure that they can be combined in pleasing and harmonious ways.
That's because your collection should have a range of accent tones and subtle tones.
Accent tones are used in details, such as prints, cutouts, and trims to highlight the product.
Subtle tones, on the other hand, are used in more basic elements of the design, such as the larger parts of the modeling and lining.
Learn more:  Uncover the benefits of fashion trend forecasting for your clothing business
1. Experiment and define your palette
One of the first tasks that you must carry out when starting a fashion collection is exploring and refining your color palette.
Take this opportunity to experiment with an array of fabrics, materials, and textures that you may want to incorporate into your clothing line.
It's also important to assess the combination of colors with your target audience in mind. Experiment, analyze, and evaluate the colors and see how they come together.
2. Review seasonal color charts
Review the seasonal color charts to identify the hues that complement your target audience's skin tones.
Initially, the seasonal color palette was divided into four categories: autumn/fall, winter, spring, and summer.
However, due to the increased diversity of skin tones worldwide, the palette has expanded to include additional variations such as temperature and intensity.
When selecting your color scheme, take into account these factors to ensure that all your customers are represented and valued.
3. Main and secondary colors
For your fashion color chart to be cohesive, you must define the main and supporting colors. So, you should categorize them into two distinct sections: the primary and secondary colors.
The primary hues will form the core of the collection and provide a stable base. In contrast, the secondary colors will appear in accents and details (such as cutouts, prints, and trims) to enhance the overall look.
4. Test the colors on the fabrics
Conducting color tests on the fabrics is a vital step in the design process since not all color combinations work well together.
This way, it's possible to evaluate whether the envisioned color scheme complements the fabric selection and whether they harmonize seamlessly to create the desired effect for the collection.
Learn more: 10 tips on creating an eye-catching fashion visual merchandising
Where to find inspiration for your color chart? 
Looking for reliable sources of inspiration is awesome to come up with innovative ideas for your collection.
Apart from established companies such as Pantone, which releases the color of the year, there are many other outlets to explore to keep up with current trends and apply them to your design.
To stay informed on consumer preferences, keep an eye on platforms such as Pinterest and WGSN reports.
Cultural exhibits, fashion shows, and fashion blogs are also great sources of inspiration that can help you develop a trendsetting color chart.
How Audaces solutions can help you develop a color chart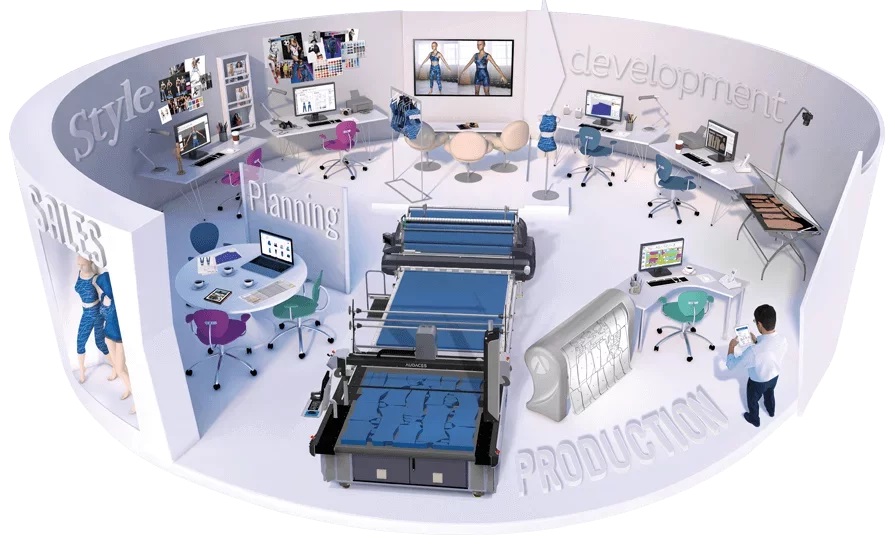 If you want to put together a well-curated color chart for your clothing collection, Audaces provide the ideal software to help you!
By leveraging Audaces comprehensive solutions, you can select the most harmonious hues to integrate your brand's concept with customer's expectations, achieving optimal outcomes for your business.
Audaces360
A multi-solution that brings the best of technology for fashion, Audaces360 unites the creative and production processes in the industry.
With it, you have a powerful solution to overcome the main challenges in the fashion realm, ensuring successful results right from the beginning of your collection.
Audaces technology boosts the performance of your clothing manufacturing, improving practicality and efficiency in delivery times.
Check out some of the Audaces360's tools:
Audaces Isa
Audaces Isa is a platform designed to manage the entire lifecycle of your collection launch.
It provides a range of features that ensure the execution of your collection's schedule at the right time, allowing you to make more accurate and informed decisions.
Audaces Fashion Studio
An advanced software that offers a 3D environment, Audaces Fashion Studio helps you create stunning fashion designs.
In addition to streamlining the sketching process, saving you time and effort, this solution facilitates the integration of the creative and production stages, allowing you to bring your ideas to life efficiently.
Conclusion 
Creating a color chart for your clothing collection allows you to analyze how shades interact and how well they complement each other.
Not only does this help you to ensure the quality of your collection, but it also reinforces your brand's identity and energy.
Want to learn more about how – and why – to use 3D virtual design for fashion?
Download our free e-book now and unlock valuable insights!
FAQ
What is a color chart in fashion?
A color chart is a compilation of the colors that should be featured in a clothing collection, making it easier to ensure color consistency and cohesiveness.
Why is it important to define a color chart for your fashion collection?
Colors, prints, and designs are the building blocks of a fashion collection, and a well-defined color chart helps you establish a clear brand identity and storyline for your collection.
Where can you find inspiration to create a color chart?
Aside from social networks like Pinterest, you can also follow the latest color trends from platforms such as Pantone website and WGSN. You can also look for inspiration from cultural events, fashion shows, and fashion websites and blogs to stay up to date with the latest trends and consumer preferences.