Find out how to choose a profitable niche within the fashion industry.
Defining and choosing a good niche market can be the stepping stone to the success of your business, and it is one of the fundamental items to enhance your marketing plan. Even so, it is still very common for entrepreneurs to have doubts about what a niche market is and how to define it.
Defining a niche market helps you focus your efforts where you're most likely to get it right.
For not defining a niche well, new entrepreneurs may want to embrace the world and end up not embracing anyone.
In an increasingly competitive world environment, Brazil exports around the US $ 2 billion of textiles and clothing per year, according to the Institute of Industrial Studies and Marketing (IEMI). China, which is the largest exporter in the world in this area, exports US $ 167 billion and is one of the largest exporters of clothing to the Brazilian domestic market.
Investing in design and differentiation to add value to the product is one of the ways for the development of fashion, companies, and the market, but thinking about niches is the best way.
When market niche surveys are used, it is understood that they are formed by more demanding consumers as to the concept of the product and its production chain. Operating with niche markets requires a greater understanding of the public, seeking to further understand their needs, desires, perceptions, and behavior.
Below are listed some niche markets, exemplifying the use of this type of segmentation:
Targeting by a size specification
Plus Size Fashion
It is a fashion aimed at people who wear clothes with measures outside the standard established by most stores. It generally focuses on women, who are increasingly demanding and attuned to the movement to launch new products on the market.
The demand is really great and there are few companies that produce. But be careful! Making clothes size 46 does not make your brand "a plus-size brand". You need to cover at least until the number 54, being worth knowing that, it should be until the number 62.
Looks by designer Rene Tyler at New York Fashion Week 2020. Image credits: Imaxtree.
Maternity fashion
It is formed by a very restricted audience. It has a short, certain, and limited time to consume and still, a lot of impatience when buying. They need specialized modeling, material comfort, and style according to the season's trends that reaffirm the woman's femininity during this very important and fulfilling period for them. Those who manage to overcome these requirements are different.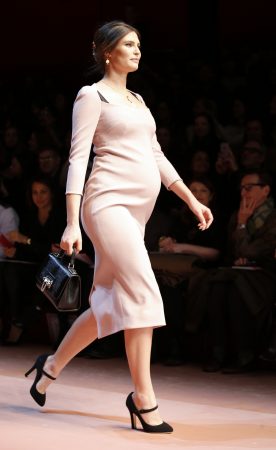 Targeting by belief / religion / ideology
Ecological fashion / Sustainable fashion
The so-called "ecological" fashion has a very wide scope, but roughly speaking, it can include products made with recycled, organic raw material, reuse of waste, zero-waste modeling, upcycling of products from previous collections, thrift stores or second-hand stores, rental stores, among other forms of conscious consumption.
The public is increasingly attentive, careful, and demanding, going deep in understanding the concepts and being vigilant if it really is an eco / sustainable footprint or just greenwashing. It is worth researching more and understanding the scope of the niche market.
Looks by Stella McCartney, a brand that was born with sustainable purposes. Image credits: Salvatore Dragone / Imaxtree.
Gospel fashion or modest fashion
A large public, in the fashion area, has emerged based on the religion to which they belong. They form a group that operates its own market for religious articles and products tailored to them and their concepts. The target audience is mostly women who look for clothes with more closed necklines and longer-than-average skirts and dresses.
According to the Fashion Bubbles website, "even large luxury retailers, such as Net-a-Porter, already have the tag" modest "to filter the most behaved pieces" focused on this consumer profile!
Style group targeting
When we talk about style, right there the list grows … Nowadays, niches are much more associated with lifestyle, concepts, and behavior. These have already been well exploited by the market, but new ones are constantly emerging. Some examples of niche markets by lifestyle and behavior are those aimed at sports, beachwear, streetwear, home, and sleepwear, as well as country, rock, urban, contemporary, vintage, among others.
These are just examples of the infinity of niches that your company can enter to achieve a better position in the market. Explore and have a differential within the fashion market!
About the columnist
Ana Luiza Olivete is a fashion designer, business consultant, and teacher.
Now that you know the importance of defining your niche market, how about checking out 10 expert tips to leverage your fashion business? Fill in your details and download the free ebook that, we bet, you will love and want to put new strategies into practice today!
Have a lot of ideas and lots of inspiration to create your collection? How about starting using the best of technology to optimize time, save resources, and save the expense of a pilot piece? Talk to our consultant and learn how to make fashion in an audacious, technological, practical, and innovative way with the Audaces 360 tools.
Read more: