Summary:
Sustainable consumption and production have been debated for years to help protect and preserve the environment;
Some ways to start helping the planet are the concepts of green consumption and the circular economy. Find out how to apply them in your business;
Technology can be a powerful tool for implementing sustainable consumption and production in the fashion industry. Get the free trial of Audaces360 multi-solution now to get started!

Sustainable consumption and production are increasingly on the agenda in the fight for the environment.
Processes must change so industries and people can work together to reduce the strain on the planet that has been building for decades. Leveraging technology in your company can be a great way to start!
So, do you want to make an impact on this vital topic? Discover the benefits of sustainable consumption and production and how to apply them to your clothing business.
Read on to learn more and make a positive change this year!
What is sustainable consumption and production?
It is the act of making mindful choices about the consumption, use, and disposal of products.
Everything humans do impacts nature. Therefore, our actions must aim to help the planet's preservation.
For too long, natural resources have been used irresponsibly, putting future generations at risk. For this reason, it is crucial to make conscientious decisions that reduce the harm to nature.
From clothing to everyday items, sustainable consumption practices can start a green wave in companies.
The International Institute for Sustainable Development has outlined some strategic priorities concerning this fight, including:
Addressing the causes of climate change and adapting to its impact;
Supporting the sustainable management of our natural resources;
Fostering fair and sustainable economies.
The recognition of sustainable consumption and production began with the United Nations Conference on the Environment in Rio de Janeiro in 1992.
Since then, it has been possible to understand that economic, social, and environmental areas must be interconnected and walk together to ensure sustainable development.
Learn more: Learn what ESG score is and how to apply it to your clothing company
What is a green consumer?
There are people who consider the effects of the product on the planet when buying. These are known as green consumers.
Of course, its usefulness must be aligned with what the customer is looking for, but the entire manufacturing process must also be committed to preserving the environment.
By practicing green consumption, people replace regular purchases with products that have an ecological and sustainable footprint.
However, green consumption alone is not enough to stop climate change. It is also necessary to rethink purchases and change consumption habits.
Learn more: Find out what Fashion Revolution is and the purpose of the movement
What is Circular Economy?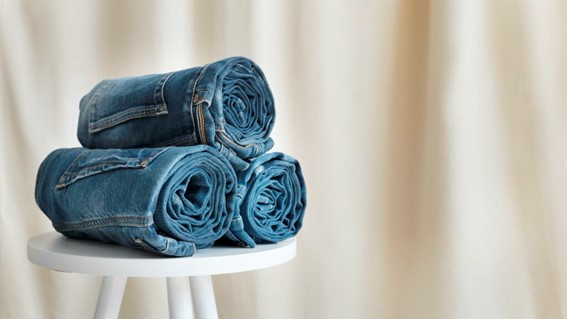 Circular economy is the act of using the same raw material until it runs out. That is, it is focused on reusing, transforming, and recycling raw materials until they are no longer viable.
This concept emerged as a counterpoint to the current manufacturing and consumption model.
Also known as a linear system, it considers only five stages of manufacturing, namely:
Extraction;
Processing;
Transformation;
Consumption;
Discard.
These factors help to reduce resource waste and lessen the environmental damage caused by air and water pollution, for example.
By embracing the circular economy, it is possible to extend the useful life of products and reduce the industries' impact on nature.
Circular economy requirements
The circular economy offers a bunch of possibilities when it comes to fashion. According to this concept, we must remember that raw materials can only be discarded when they are no longer used. Therefore, the ways to expand an item's usage can have:
Same purpose
Think of an outfit you want to get rid of because you don't wear it much or think it's not stylish anymore.
Customization is a way to keep using the same piece. That is, you can find a new purpose for an old outfit by personalizing and embellishing it, donating it, or selling it to someone else, making the piece continue its life cycle.
Different purposes
If none of the options above is a choice for you, you can unleash your imagination and find new uses for those unwanted products. One single piece can create clothes for dolls, crafts – like patchwork – and whatever else you can think of!
Recycling
Recycling is another great way to join the circular economy. Through it, broken and damaged products can become new items. Brands like Stella McCartney have been seeking innovation through sustainability and greener choices.
The British designer is partnering with a plastic recycling company to create recyclable resources from polyester and nylon textile waste.
Therefore, the reuse of water, the reduction of chemical products, the search for organic cotton, and the recycling of textile fibers are other actions the clothing companies may enforce.
This way, the fashion industry must commit to a cleaner future (and present), considering the customers' values and new demands regarding this essential subject.
Learn more: How does technology in fashion impact the textile industry?
What is the importance of sustainable consumption and production?
Preserving the environment is not the responsibility of just one person – it requires actions from individuals, businesses, and governments.
Sustainable consumption and production remind us that everyone needs to do their part to protect our planet, for the consequences might be severe.
Every action taken by people and companies counts towards a sustainable future. But we must start now!
UN reports state that around 1 million animal and plant species are threatened with extinction, many within decades, more than ever before in history.
In addition, about 66% of the marine environment have been significantly altered by human actions due to pollution in the ocean since 8 million tons of plastic are discarded each year.
Global warming harms the Earth's life cycle. It is caused by the increase in the greenhouse effect, the result of the emission of polluting gases – most of them by industry.
With the average temperature rising by nearly 1.5°C, animals and plants have been dying, while droughts and fires have been increasing.
If environmental impacts continue like this, researchers expect that by 2050, there could be around 4.5 million deaths due to pollution and related illnesses.
To prevent this, collective and individual efforts are urgent. Sustainable consumption and production are here to help us make a difference and create a better future.
7 benefits of consuming and producing responsibly
Sustainable consumption and production can bring a series of benefits not only to nature but to those who put them into practice – people and industries.
Check out 7 advantages of consuming and producing responsibly:
Reduction in the emission of polluting gases and the greenhouse effect;
Replacing the use of fossil fuels with the use of clean energy;
Greater influx of customers joining the green wave;
Extended product life cycles;
Greater availability of natural resources;
Reduced use of chemical actives;
Preservation of the environment.
What are the challenges of sustainable consumption and production for the textile industry?
The fashion industry is known to be one of the most polluting sectors in the world due to the extensive use of non-renewable resources.
One of the biggest challenges that apparel companies face is identifying means of replacing the resources used in addition to the correct disposal of leftover fabrics and machines with a lower level of pollution.
Moreover, the value of the pieces may rise thanks to the increased demand for more preserved and eco-friendly resources. These products tend to be harder to sell, as organic cotton usually costs more, making clothes more expensive.
The United Nations (UN) has established goals that should help change global patterns of sustainable consumption and production by 2030.
Learn more about the official guidelines:
Goal 12: Ensure sustainable consumption and production patterns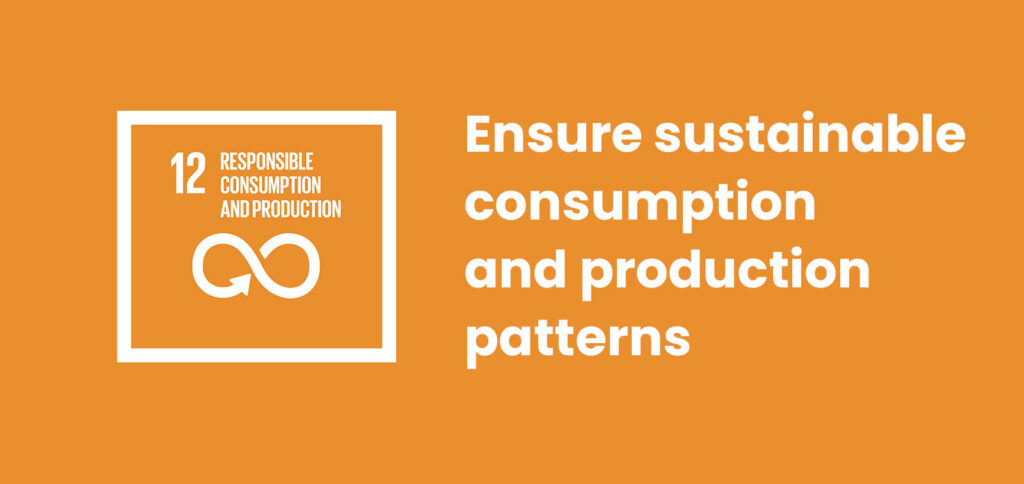 12.1 Implement the 10-year framework of programmes on sustainable consumption and production, all countries taking action, with developed countries taking the lead, taking into account the development and capabilities of developing countries.
12.2 By 2030, achieve the sustainable management and efficient use of natural resources.
12.3 By 2030, halve per capita global food waste at the retail and consumer levels and reduce food losses along production and supply chains, including post-harvest losses.
12.4 By 2020, achieve the environmentally sound management of chemicals and all wastes throughout their life cycle, in accordance with agreed international frameworks […].
12.5 By 2030, substantially reduce waste generation through prevention, reduction, recycling and reuse.
12.6 Encourage companies, especially large and transnational companies, to adopt sustainable practices and to integrate sustainability information into their reporting cycle.
12.7 Promote public procurement practices that are sustainable, in accordance with national policies and priorities.
12.8 By 2030, ensure that people everywhere have the relevant information and awareness for sustainable development and lifestyles in harmony with nature
12.a Support developing countries to strengthen their scientific and technological capacity to move towards more sustainable patterns of consumption and production.
12.b Develop and implement tools to monitor sustainable development impacts for sustainable tourism that creates jobs and promotes local culture and products.
12.c Rationalize inefficient fossil-fuel subsidies that encourage wasteful consumption by removing market distortions, in accordance with national circumstances […].
Source: United Nations (UN)
How to ensure sustainable consumption and production standards in your production?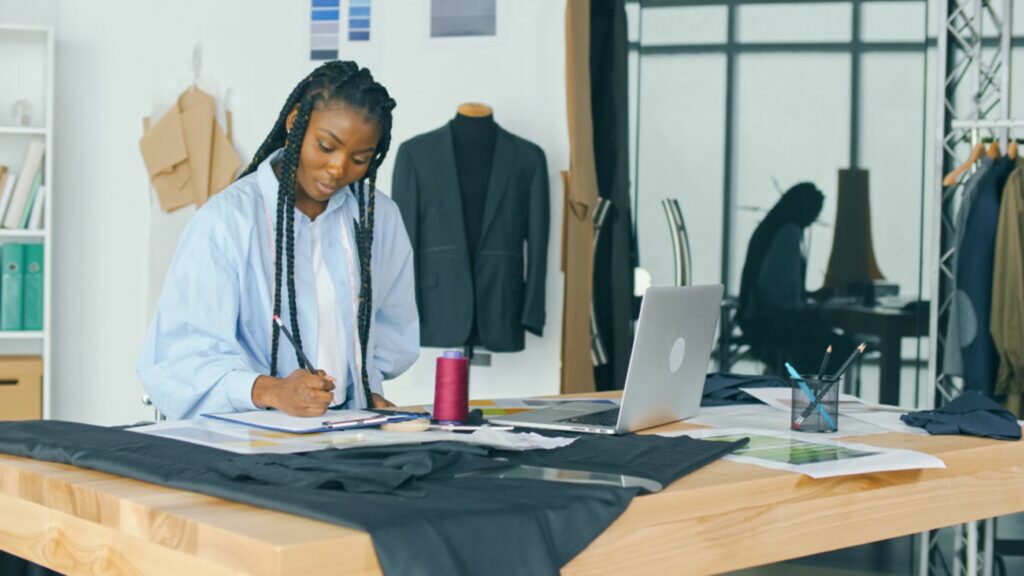 Revolutionize your production process with Audaces!
For a more sustainable future, our solutions support the entire textile chain with innovative and technological solutions, from creation to the production of the final piece. Find out more about our systems:
Audaces360
Unlock your creative potential with Audaces360! Our multi-solution platform takes your making to the next level.
With powerful tools that streamline your deliveries and optimize your time, Audaces360 is the ideal software to boost your business.
Audaces Pattern
With Audaces Pattern, you will be able to produce high-quality and accurate patterns in no time.
Our system allows you to standardize, program, organize and control the entire manufacturing process, saving you time and money on raw material costs.
Audaces Marker and Supera
Audaces Marker is an automated system that allows you to install any piece in just a few minutes.
Besides, together with the Audaces Supera function, which automatically creates a lay planning thanks to the algorithms that process them, you'll save time and money, keeping your workstation clutter-free.
Depending on production needs, the server schedules the cutting order, assigning priorities to markers.
Conclusion
With the inappropriate use of natural resources, besides pollution, burning, and deforestation, the planet has been hugely impacted – and environmental specialists are ringing the alarm.
Now it is time for people and industries to take action and genuinely embrace sustainable consumption and production ways to care for the environment.
Clothing manufacturers can help in this process in many ways, especially when technological advancements enter the production routine.
Let's make sustainability a priority! Want to know how to start saving resources and money? Download our free e-book and find out some invisible expenses that your company might be having:
FAQ
What is sustainable consumption and production?
It is the act of making mindful choices about the consumption, use, and disposal of products.
Why is it important?
Sustainable consumption and production remind us that protecting the planet is everyone's responsibility, for the consequences might be severe.
How can the fashion industry help with that?
Some ways are identifying means of replacing the resources used, making the proper disposal of leftover fabrics, and developing machines with a lower level of pollution.