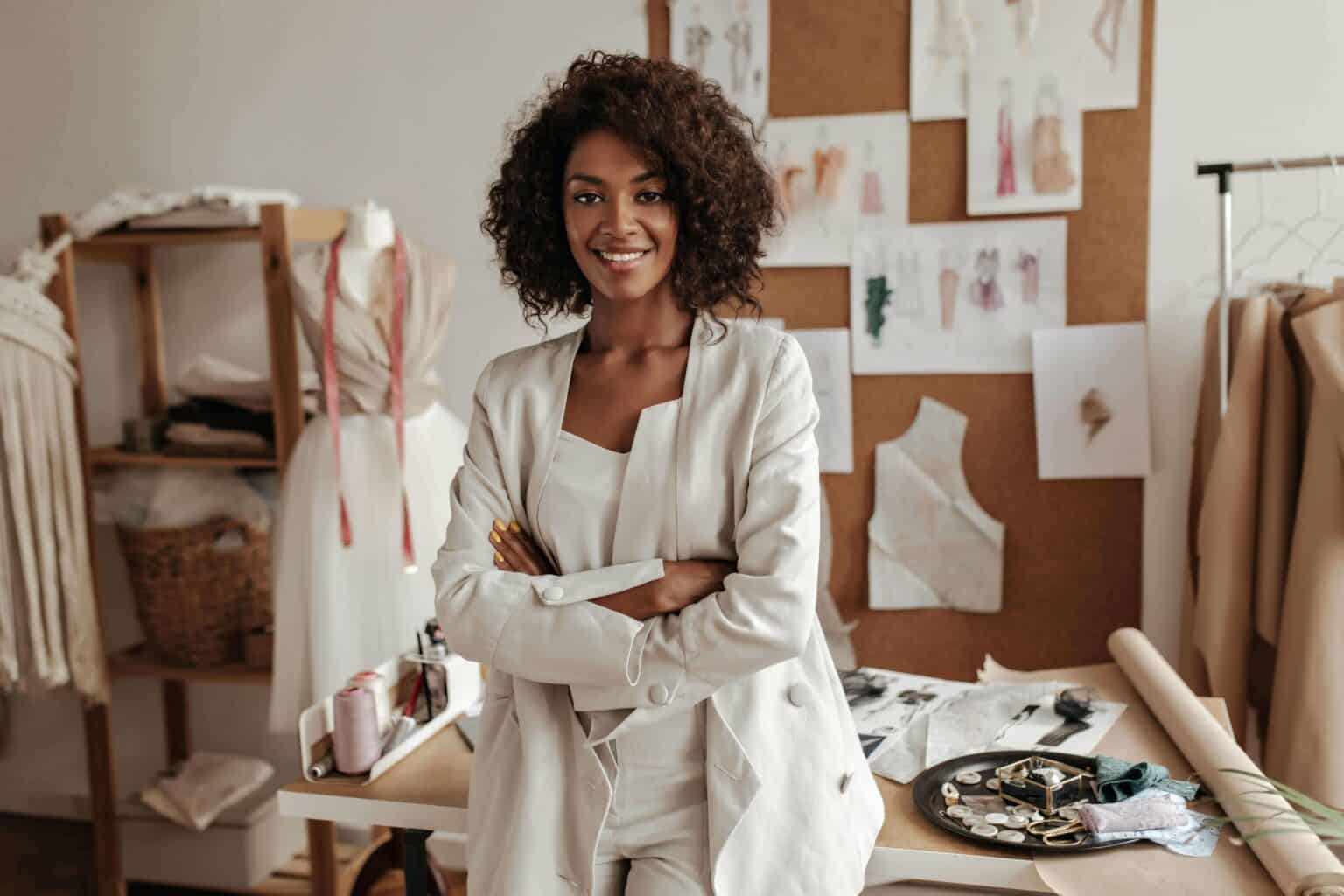 14/04/2022
Female entrepreneurship: how do women act in strengthening the industrial sector? 
Although entrepreneurship is not restricted to issues such as gender, we know that, for historical, political, and social reasons, female entrepreneurship – that is, female leadership in own or non-owned enterprises – is an issue that has only recently been discussed, and analyzed. and driven. 
Historically, the predominance of male-led enterprises created an unfavorable environment for women who wished to undertake or occupy leadership positions and positions.
However, with the intensification of debates in relation to gender equity, entrepreneurship has opened its doors to the participation and protagonism of women more and more.
Therefore, it is extremely important to understand the current scenario of female entrepreneurship, its challenges, and how female leadership has impacted businesses and industries around the world. 
Follow the content below and learn more about it: 
What is female entrepreneurship? 
Female entrepreneurship can be defined as the process of initiating ventures led by one or more women, as well as leadership initiatives in which women occupy high positions within companies – management, leadership, the presidency, and the like. 
In practice, it is a form of entrepreneurship as we know it – identifying problems and creating businesses that offer the solution to them – from the perspective and role of women entrepreneurs.
And, make no mistake: although the subject has only recently come to light, especially with the pandemic, women entrepreneurs have been around forever.
According to the GEM (World Entrepreneurship Monitor) survey, there were about 274 million women involved in businesses and startups and 139 million managers and business owners in the world in 2020. 
This number reveals how women's participation in business and entrepreneurship has created an entrepreneurial ecosystem with immense potential for growth and the generation of new solutions to the problems of the globalized world. 
What are the challenges of female entrepreneurship? 
Although the number of women entrepreneurs has increased in recent years, there is still much to be achieved in order to achieve equity between the ventures conceived by men and those idealized by women.
Also according to the GEM study, there are two types of factors that directly influence female entrepreneurship: structural factors and cultural factors.
Structural factors involve how the market works – globally, women are more likely to lead smaller businesses compared to men. Likewise, they are 24.6% more likely to start a business alone, which increases the challenges to be overcome for the company to thrive.
Furthermore, gender segmentation across companies and industries influences the perception of who (or rather, whose gender) should occupy leadership positions, so that, globally, women are 50% less likely to occupy senior management roles. 
Cultural factors, on the other hand, involve the way in which society perceives and interprets the so-called gender role, that is, how men and women should tread their professional paths and which places they should occupy in society. 
What is the importance of encouraging women to undertake? 
Encouraging entrepreneurship is essential for several reasons, the main one being the elimination of gender inequality and the generation of equal opportunities between men and women – given that leadership skills and competencies do not depend on this factor. 
In addition, encouraging female protagonism in enterprises is important for the following reasons:
Diversification of the entrepreneurial environment through the insertion of new leaders, niches, and areas of activity; 
Market oxygenation, thanks to the emergence of new ventures and ideas that contribute to the economy as a whole;
Valuing female talents and soft skills;
Expansion of the entrepreneurial ecosystem, generating new job opportunities and stimulating consumption;
Female financial independence – women entrepreneurs naturally hire other women.
The development of female entrepreneurship is not only important for society and the market as a whole but also extremely beneficial because by reducing gender gaps, there is a more egalitarian and plural society in terms of ideas, businesses, and opportunities.
When is Women's Entrepreneurship Day celebrated? 
Women's Entrepreneurship Day is celebrated on November 19. The date was chosen in 2014 by the UN (United Nations) in an initiative led by UN Women.
The purpose of the date is to bring together countries, companies, and institutions in search of support to end the wage gap between men and women and encourage female leadership in business leadership. 
Female Entrepreneurship: Examples of women who made it to the top 
Despite the great effort and challenges faced by women entrepreneurs, we must highlight some examples of female protagonism that reached the top – whether due to recognition, exceptional work, or for several other reasons. Check out: 
Female Entrepreneurship: Zuzu Angel 
Considered the mother of Brazilian fashion, Zuzu Angel was one of the most important designers in the country, known for her originality and her active social participation – acting directly against the oppressive regime of the Military Dictatorship.
During the 40's, he moved to Rio de Janeiro in search of financial independence, and it was there that the ventures in his sewing studio began, which, by the 70's was known nationally and internationally.
We have a full article on the life and work of Zuzu Angel here on the Audace blog – be sure to check it out!
Female Entrepreneurship: Luiza Helena Trajano 
One of the most important figures in female entrepreneurship today, Luiza Helena Trajano is one of the most successful women in the country, having led Magazine Luiza for 24 years and turning it into one of the biggest retail brands in Brazil.
In addition, Luiza also invests, mentors, and inspires dozens of ventures throughout Brazil, actively contributing to encouraging female leadership in companies and businesses. 
Female Entrepreneurship: Rihanna 
The singer and entrepreneur Rihanna became, in 2021, the newest billionaire in the world! This is ahead of her cosmetics brand, Fenty Beauty, which launched in 2017 and which, since then, become a benchmark in inclusive cosmetics for all skin tones. 
Becoming the first black woman to head a luxury brand, Rihanna has established herself as an entrepreneur and proof that entrepreneurship can address different segments – such as fashion, the music industry, and many others. 
Female Entrepreneurship: Coco Chanel 
Considered one of the most important people of the 20th century by Time magazine, Coco Chanel is the creator of what can be considered one of the greatest luxury brands in the world – Chanel.
As an influencer, she influenced the entire fashion market at the time, launched timeless trends, and left as a legacy one of the most desired and value-added brands on the planet. 
Female entrepreneurship: tips to seek your spotlight in the business world 
Entering the world of entrepreneurship is not necessarily an easy task, for all the reasons we saw earlier. However, through practical strategies and actions, it is possible to take the first steps towards a successful business. 
Want to know how? Check out the main tips prepared by the Audaces blog: 
Discover your area of expertise with female entrepreneurship
The beginning of the entrepreneurial career begins with a very important assessment, as it will define the next steps towards success, and it is about defining the area of activity.
In this sense, looking for areas that are little explored or that offer greater opportunities for growth can be a smart solution to overcome the adversities of opening a new venture.
In the same way, offering innovative solutions for areas that are already well explored, such as the Fashion Industry, for example, in which women's participation is very active, can also be a way of ensuring the success of the enterprise. 
get organized 
The organization is an indispensable attribute for both entrepreneurs and their ventures. Having an initial plan that is periodically renewed is a key step in establishing yourself in the market. 
constantly improve
The growing demand for professionalization, especially for the professional called 4.0, is added to the needs of a business that wants to grow and achieve financial stability in a moderate time. 
Therefore, constantly improving the market, finances, management and entrepreneurial spirit is one of the ways to guarantee that your business is always ahead of competence. 
Don't expect everyone's approval 
As we have seen, the scenario of female entrepreneurship in Brazil is still contrasting and is very much in line with the country's socio-political reality, so it is to be expected the influence of these factors on new ventures led by women.
 Facing these difficulties and overcoming them is critical on the path to a successful business. So, don't expect everyone's approval, but always have a support network, partners, and partners to count on.
look for investors 
Investments in entrepreneurship have grown in general. The search for credit and public and private investors is a solution to overcome financial adversities, especially at the beginning of the enterprise. 
Bet on networking 
The entrepreneurial ecosystem is full of networking opportunities – where you can find and partner with suppliers, service providers, qualified employees, partner companies, and much more. 
Use technology as a boosting factor for your results 
Enterprises connected to the digital world are more likely to be successful than those that do not invest in technology. Digital transformation is a reality and, through it, it is possible to enhance the results of any enterprise.
We've already talked about how digital transformation has impacted the business world here on the Audaces blog, be sure to check it out! 
Count on Audaces solutions to undertake the fashion world
If your venture is focused on the Fashion and Clothing Industry, using Audaces360 tools can help you boost your business results. Through 4.0 technologies, we facilitate the creative, technical, and operational stages of clothing, leaving them fully digital and integrated. 
Female entrepreneurship is one of the main ways to eliminate gender inequality in the business environment and to financially emancipate women, capable of offering new ideas and oxygenating the world market with their innovations and leadership.
Now that you know everything about it, keep following the Audaces blog, and don't miss any content updates. To the next!