Summary
Women's fashion online experiences high demand and continuous growth
A women's fashion e-commerce can rapidly expand, serving diverse regions
Discover how to efficiently manage your collection stages using the Audaces360 multi-solution. Get the free trial now!
Women's fashion online is a world in a perpetual state of evolution.
With seasonal shifts and major brands unveiling new collections, fresh fashion trends constantly emerge.
In an era of convenience-driven consumption, an increasing number of people are turning to virtual shopping, presenting a golden opportunity for your clothing business.
In this article, you'll explore reasons to invest in a women's fashion e-commerce venture.
Also, discover the best tips, the latest trends, and cutting-edge technologies you should consider embracing to stay ahead in this dynamic industry.
Happy reading!
Why invest in women's fashion online? 
Investing in a fashion e-commerce can be a promising decision for several reasons.
Women's fashion is a sector characterized by high demand and an extensive market, as women of all ages and styles actively seek new clothing and accessories.
With e-commerce, it becomes easier to segment the target audience and offer specific products tailored to various styles, age groups, and preferences.
This, in turn, significantly enhances the chances of converting potential customers into actual sales. Moreover, compared to a physical store, e-commerce typically boasts lower operating costs.
Furthermore, a virtual store remains accessible to customers 24 hours a day, seven days a week, enabling them to shop at their convenience. This increased accessibility can contribute to higher sales and customer satisfaction.
Women's fashion is heavily influenced by social media. An e-commerce store can reap the benefits of integration with platforms such as Instagram and Facebook, enabling it to reach a broader audience and drive sales growth.

Trends in women's fashion online
Several trends can enhance the customer experience and optimize operations and services within the realm of women's fashion e-commerce.
It's crucial for brands to stay attuned to technological advancements and the preferences of their target audience to maintain relevance and competitiveness in the market.
Explore some trends shaping the e-commerce landscape:
Artificial Intelligence (AI)
AI holds immense potential when applied to fashion e-commerce in various ways.
One application involves personalizing the customer experience, with AI analyzing user buying behavior and offering more relevant product recommendations based on individual preferences.
Plus, AI-powered chatbots can provide round-the-clock customer support, swiftly and efficiently addressing customer queries and concerns.
Learn more: How can fashion brands boost their business with technology?
Metaverse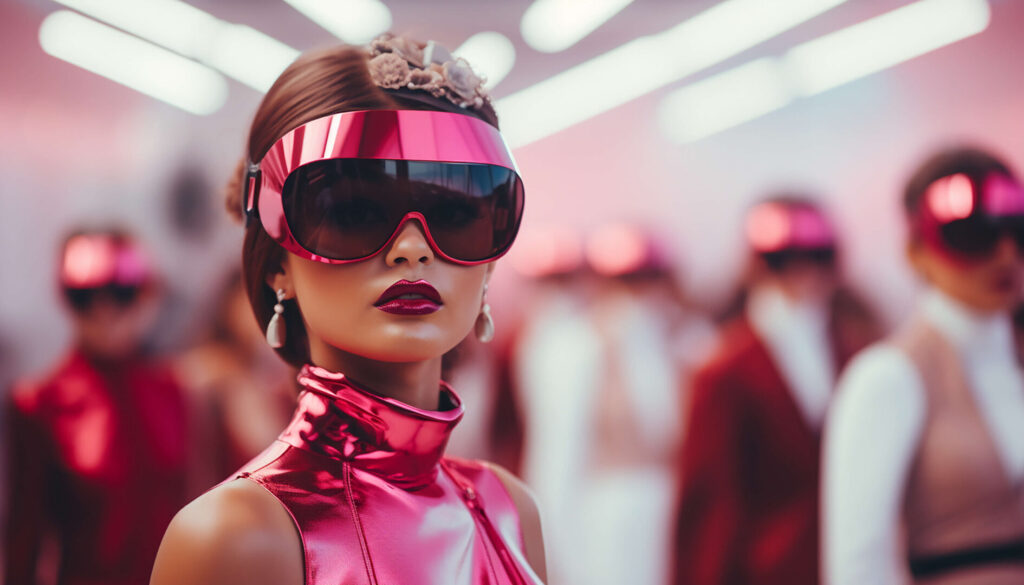 The metaverse represents an evolution of 3D virtual worlds, providing a platform for people to interact, socialize, and engage in various activities.
Within the realm of women's fashion e-commerce, brands can establish their virtual stores in the metaverse.
This enables customers to virtually experience products and engage with the brand in an immersive and captivating manner.
Learn more: Discover the fashion metaverse and make your collection stand out
Phygital fashion 
An interesting trend for women's fashion online stores is the integration of physical and digital experiences, referred to as "phygital fashion."
This approach involves hosting face-to-face events, such as showrooms, where customers can physically see and try the products.
Additionally, customers have the option to shop online either during their visit or afterward. This blend of physical and digital experiences offers a holistic approach to fashion retailing.
Learn more: What is phygital fashion and how to integrate the physical and digital in apparel
Virtual fitting rooms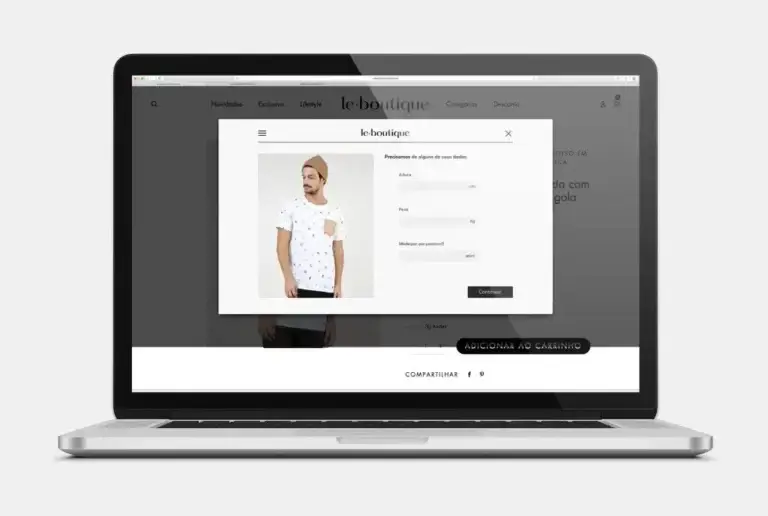 The virtual fitting room is a technology that empowers customers to virtually try on clothing items before finalizing their purchase.
This innovation proves valuable within the context of women's fashion e-commerce, where the fit and appearance of products is crucial for satisfaction.
By utilizing a virtual fitting room, customers can input their measurements and visualize how the garments would appear on them.
This not only boosts confidence in online purchases but also diminishes the frequency of returns.
Learn more: Boost your e-commerce store with a virtual clothing fitting room
5 tips for a successful women's fashion online store
Achieving success with your women's fashion e-commerce venture requires a proactive approach.
Monitoring your e-commerce performance, analyzing customer data and feedback, and remaining open to improvements and adaptations are essential steps.
To establish a top-quality women's fashion online store, dedication, innovation, and a deep understanding of your target audience's needs are indispensable.
Below, you'll find some tips to kickstart your journey:
1. Select an e-commerce platform
Choosing the right e-commerce platform is paramount for the success of your women's fashion online store.
Numerous options are available, but it's essential to evaluate features, costs, customer support, scalability, and integration with other systems before making a decision.
2. Choose a niche
Instead of attempting to target a broad, generic audience, it's more advantageous to select a specific niche within women's fashion to distinguish yourself in the market.
Consider niches such as plus-size fashion, luxury fashion, sustainable fashion, beachwear, among others. By focusing on a niche, you can better cater to your audience's unique needs and preferences.
3. Plan the shopping experience
A positive shopping experience is vital to the success of your e-commerce venture.
Ensure that your website is user-friendly, with an intuitive layout and well-organized categories.
Incorporate efficient search functionality, comprehensive product filters, detailed product pages, and a streamlined, secure checkout process.
Offer multiple payment options and diverse delivery methods to enhance convenience for your customers.
4. Capture high-quality photos and videos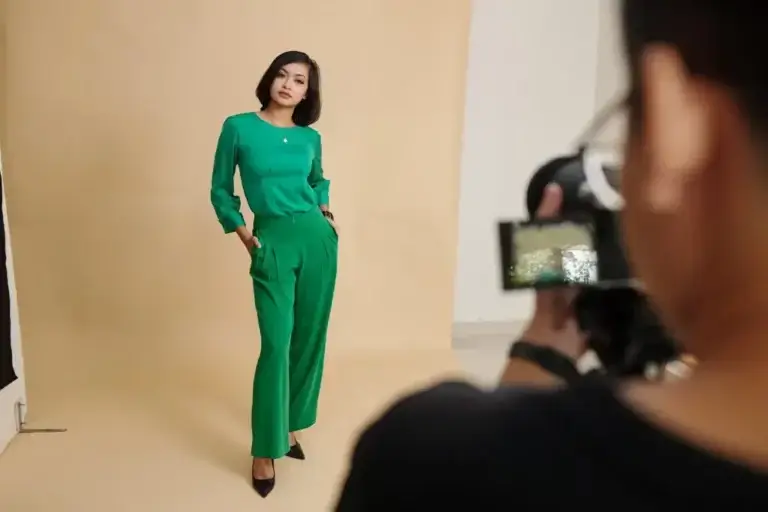 In the realm of women's fashion, visuals are paramount.
Invest in top-notch photography and videography to present your products in the best light possible.
Showcase garments from various angles, whether on models or mannequins, allowing customers to gain a clear understanding of how the items look when worn.
Learn more: Learn 8 tips for a successful fashion photoshoot of your collection
5. Remarketing strategies 
Remarketing proves to be an effective tactic for reengaging customers who have previously visited your website but didn't finalize a purchase.
Utilize remarketing tools such as Google Ads or Facebook Ads to display relevant advertisements to these customers on other websites and social networks.
This strategic approach serves as a reminder of the products they showed interest in and encourages them to return and complete their purchase.
Join the new era and elevate your e-commerce with Shape-U
Shape-U represents an innovative e-commerce solution designed to elevate the customer experience. It accomplishes this by offering personalized product recommendations and comfort indications, ensuring that each product aligns perfectly with individual needs.
With its intuitive and user-friendly interface, Shape-U simplifies the customer journey, instilling trust in your online store and its recommendations.
For entrepreneurs, Shape-U provides comprehensive metrics on business performance and target audience insights, empowering you to optimize marketing strategies and make informed decisions.
The management panel is designed for intuitive use, enabling you to monitor recommendation performance and adjust product offerings as needed. Informative reports are readily available to enhance your overall business management.
Learn more about this powerful tool!
We've already demonstrated how a virtual fitting room can significantly impact your e-commerce sales.
Now, discover how to maximize your results with our free e-book:
FAQ
Why invest in women's fashion online?
Women's fashion enjoys high demand and a vast market, with women of all ages and styles constantly seeking new clothing and accessories.
What are the key trends in women's fashion online?
The main trends include Artificial Intelligence, the metaverse, phygital fashion, and virtual fitting rooms.
What tips ensure success in women's fashion online stores?
Tips for success encompass selecting the right e-commerce platform, choosing a niche, optimizing the shopping experience, using high-quality visuals, and implementing effective remarketing strategies.