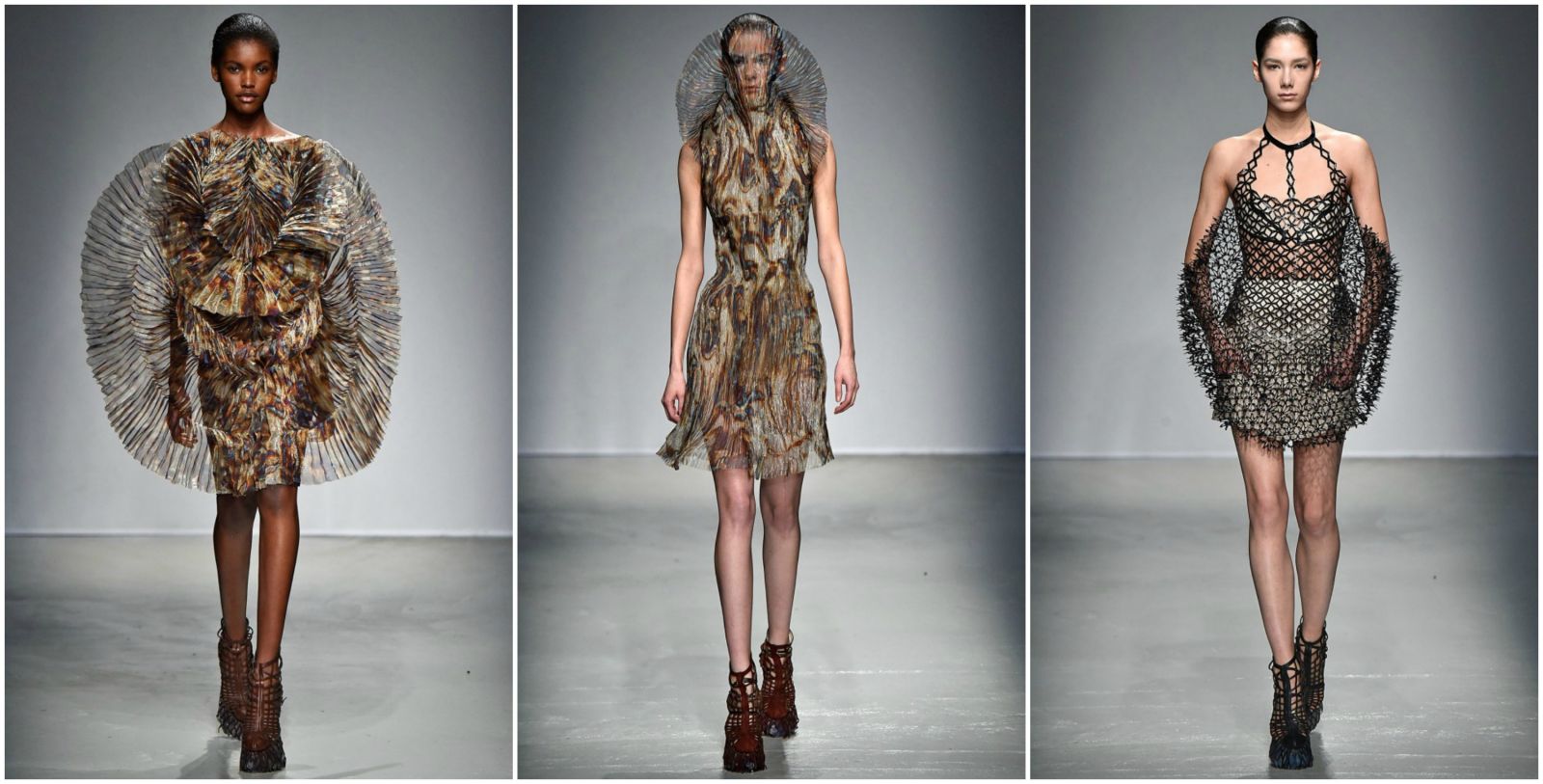 13/12/2021
Iris Van Herpen and her 3D Techniques in the fashion world
The 3D techniques in the fashion world by Iris van Herpen (Netherlands, 1984) links fashion, design, technology and science. Thanks to her dynamic and groundbreaking work, she has proclaimed herself a pioneer in the world of fashion. He created his first collection in 2007, shortly after graduating from the Dutch art school ArtEZ.  
Residing in Amsterdam and away from the Parisian world of haute couture (she has been part of the Chambre Syndicale de Haute Couture since 2012), van Herpen dedicates time to his study, his global network of collaborators and the international fashion scene, in which his designs regularly run on the catwalks of biennial fashion shows in Paris.  
In the world of fashion, short deadlines, international platforms and the imperative need to look for new things stand- out. 
Just look at the latest creations by Iris van Herpen, which combine skill and new technologies. His Shift Souls collection is made up of 18 different styles, all very colorful. According to the designer, the focus is  "the evolution of the human form, its idealization over time and the hybridization of female forms in mythology". 
Iris Van Herpen and her 3D Techniques:
Thanks to 3D printing, designers have more freedom in terms of design and geometric complexity. In fact, they can produce shapes that are impossible to obtain using conventional production methods. 
The result of this work, defined in the sector as fashion, is usually exhibited in museums, where it can be appreciated more as a work of art than as a designer garment.
In the works she develops, Iris partners with professionals, such as architects and scientists and, through processes such as 3D printing, she creates pieces that are true works of art.
The most interesting is that even making use of such technology, she does not leave aside the ancient techniques of craftsmanship, which makes her work extremely rich in detail.
The raw material of the pieces ranges from worked leather to alternative materials, such as plastic, wood and metal.
Iris creations can be found, in addition to the Paris Fashion Week, in exhibitions taking place throughout the world. It really is great source of inspiration, it is worth knowing her work closely and thinking of new possibilities of combining craftsmanship and technology!
To complete her new collection, the Dutch designer created a face jewelry called Cellchemy. He worked with Delft University of Technology to print these accessories in 3D.
The teams started by scanning the faces of the mannequins and used algorithmic modeling software to match the 3D shape with the desired colors. Little information about the printing process has been revealed, but Iris says she used a multi-material 3D machine.
What did a VOGUE magazine say?
In an interview with Vogue magazine, Iris van Herpen said: "People think that everything I do is printed in 3D, but the basis of my work is really handmade.
I think a lot of people are trying to separate the two, but I see these two methods as the same and I really think they can complement each other.
Sometimes a texture I developed on a 3D printer can be a source of inspiration for a manual technique, and sometimes it's the other way around".
More information can be found on the official website of Iris van Herpen HERE and in the video below:
Photos and Videos: http://www.irisvanherpen.com
"The ability to vary softness and elasticity inspired us to design a "second skin" for the body acting as armor-in-motion; in this way we were able to design not only the garment's form but also its motion," explains Neri Oxman.
"The incredible possibilities afforded by these new technologies allowed us to reinterpret the tradition of couture as "tech-couture" where delicate hand-made embroidery and needlework is replaced by code."
Let us know in a comment below or on our Facebook and Instagram Profiles!