16/11/2022
What is digital clothing and how does it impact the fashion industry?
Summary:
Digital clothing is a trend gaining popularity worldwide. Fashion brands create virtual clothes for digital-only environments – you can use them in pictures, videos, games or virtual worlds;
Customers who buy digital outfits long to express their identity on the internet and social media, without having to fill up their real-life wardrobes;
The best way to model these unique pieces is by using realistic, practical, and complete systems and tools. Audaces Fashion Studio is all that and more. Download now Audaces 360's free trial!

Widely used in video games and digital spaces for social interaction, such as SecondLife and the metaverse, virtual clothing modeling technology has reached a very realistic stage. Today, people buy virtual outfits and "wear" them by taking pictures of themselves, then applying filters.
However, virtual fashion is far from reaching its peak. And, as we know, the further a trend is from its highest point, the biggest the potential to grow. If you want to join this universe, as a stylist, entrepreneur, or content creator, keep in mind that it is a hot topic!
The ideal way to start this journey is to study what digital fashion is and how it works, including the main elements of this market. Getting to know brands, tools, and other features is also essential. We will tell you everything in the following article, with true-to-life illustrations of how it works.
Have a good read!
What is virtual clothing and how does digital fashion work?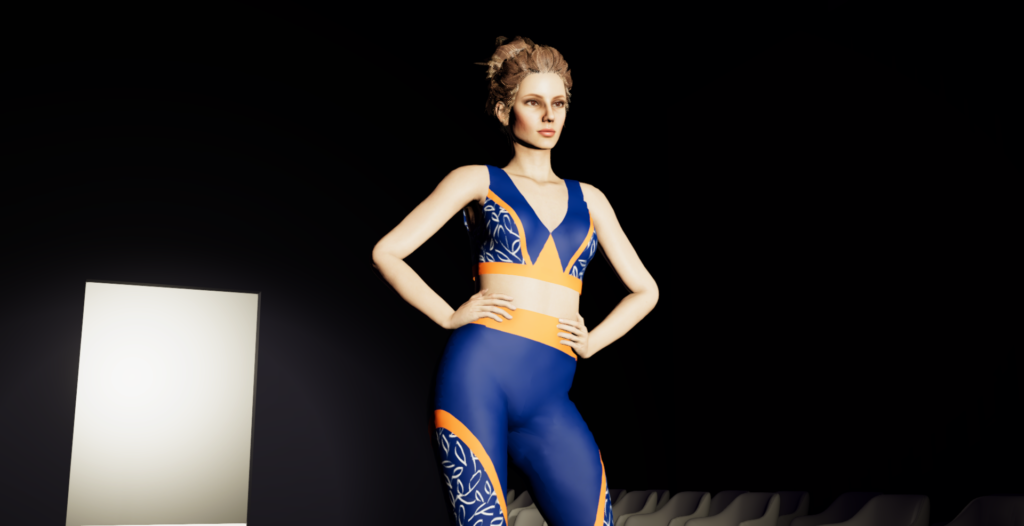 Virtual clothes are pieces that, as the name says, only exist in the online environment. In the past, they were used just to demonstrate some products or used for game development and visual effects in movies and tv. But the boundary between the digital and the physical world is getting blurred.
Today, the modeling of virtual clothes also serves other purposes. Virtual reality, like the one in the Metaverse, is a great example. Designers have been creating clothing for avatars, including NFT selling, which is becoming a new opportunity in the fashion industry.
Many companies are also investing in creating 3D spokes-avatar personalities to be the face of the brand. Lu from Magalu is a big representative of this trend in Brazil.
Specialized agencies are also benefiting from the rise of digital humans and branded avatars. One of these companies is UneeQ, which works with enterprises to provide super-realistic digital humans with integrated conversational AI to serve customers across the marketing journey.
But who takes care of these characters' wardrobes? Stylists and virtual clothing designers who understand the importance and the advance of digital fashion.
Last but not least, there's also this great trend going on: people buy virtual clothes that act as filters on photos, so, in social media and other digital interfaces, it looks like they are really wearing it. It's a new option for those who want to innovate and express their style, personality, and good taste in fashion.
To learn more about digital clothing, you need to know these 4 aspects below:
3D fashion
3D Fashion is the term that refers to all the culture, industry, art, tools, and professionals focused on the digital fashion market. In other words, it's a virtual environment, along with industry 4.0, which transports the entire production and consumption chain into computer and smartphone screens.
AI ​​models, NFT trade, environmental responsibility… It all takes part in this promising universe.
In Brazil, there's a fashion week totally dedicated to digital clothes, which is the first in all of Latin America. It's the Metafash – and if you want to work in digital fashion, consider putting this event on your fashion schedule.
Virtual influencers
Don't be surprised if one day you open your (virtual) fashion magazine and find fashion dolls instead of real models, influencers, and trendsetters. The evolution of 3D technology is increasingly realistic and virtual influencers are serving as a mannequin to present new collections and lifestyles.
Since they are more economical options than human professionals, and the model poses are unlimited, these virtual influencers have been gaining more personality and voice. Who knows the creation of virtual influencers also bursts in industry 4.0?
Virtual runway shows
To discuss this trend a little further, a Vogue article raises some interesting questions: How will fashion shows evolve? Are virtual clothes the next frontier?
As a matter of fact, in-person fashion weeks will not be ruled out, but a new fashion world has emerged and is undoubtedly growing – and these digital fashion events will take place in parallel.
We earlier mentioned Metafash, the first Brazilian virtual fashion week, but we can also name The Fabric of Reality, Another Place, Metaverse Fashion Week and several other virtual fashion events to keep an eye on.
3D showcase
Virtual storefronts are what the name says. It's a way of presenting pieces of clothing in 3D models, without needing a physical mannequin. They can be entirely online or can be showcased in holograms of physical stores.
Some brands offer the sale of digital clothes in these virtual windows and, later, a physical version can be purchased.
The big thing about it is the opportunity to work with data. Thanks to machine learning and Big Data, your business's 3D storefront can offer the ideal models for your customer as soon as he enters your website. The perfect tips at the right time to increase the revenue of your clothing – virtual or not.
Which technologies are used to create digital clothing?
The technologies involved in the digital market are often analogous to those used in the production of physical pieces. Sometimes they are even the same, which is the case with modeling software, for example.
But in general, digital clothing brands work with tools that help the creation, like sales platforms, digital security to protect models, blockchain for NFTs, and digital marketing.
Others may be used depending on your specific need. Later in this article, we will give you a tip for an excellent solution to create garments to be sold in this virtual segment.
What are the advantages of creating digital clothing?
Clothing companies that work with digital fashion can embrace many advantages. Among them, are the reduction of raw material waste and the possibility of the worldwide reach of clothing pieces.
Digital Fashion is an evolving area, and several segments of it are emerging or expanding. Therefore, embarking on this trend is a great business opportunity. Study the market, consider the possibilities, be strategic, and create garments with a future!
Brands that invest in virtual clothes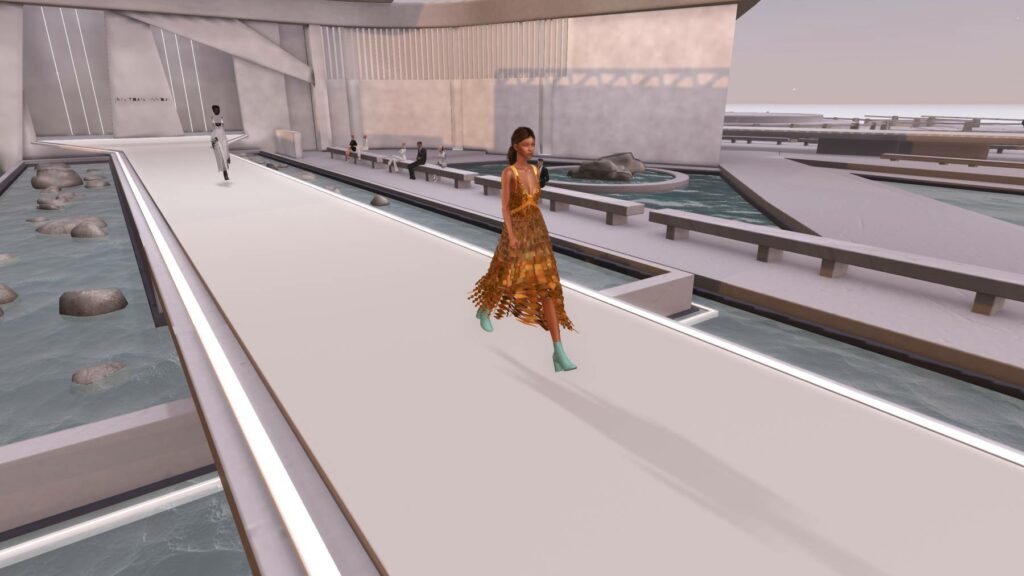 Brands that invest in digital clothing are not only modeling companies for video games and movies. Actually, the biggest representatives of this market are the manufacturers that migrated to the virtual environment and today sell in a hybrid model.
This, however, doesn't mean that different solutions will stop appearing day after day.
We already see brands that exist 100% digitally, without offering a single physical piece. And there are also the ones that work as marketplaces or connectors between stores and customers. Get to know more about some of the top digital clothing brands below:
The Fabricant
The Fabricant is a Dutch clothing brand that in 2019 decided to embrace the digital fashion market and launch its first virtual clothing. Believe it or not, they auctioned one of the first pieces for US$ 9,500.
And you know why did they choose this particular one? Because they had done a survey and found out that 9% of the population of developed countries wear outfits only for photos. In this case, wouldn't it be more interesting to buy a virtual outfit?
Hot Second
This English company has taken a different path. Instead of cash, they "charge" in clothing donations to deliver a digital piece to their customer, which may even be produced by Carling and The Fabricant.
In addition to encouraging the use of virtual clothes, we don't know for sure how the revenue of this company works. So, what is the purpose of this business model? If the idea is an incentive for sustainability and a way to send clothing donations, we think it's a very interesting matter.
There are several articles online that discuss how clothing companies can profit while fighting consumerism in fashion and how to become a more conscious consumer – we definitely encourage this debate.
Carlings
Carlings is one of the pioneers of digital clothing. The Scandinavian company is so modern that the pieces are genderless, sizeless, and instantly adapted to anyone's body in photos.
And don't think about unlimited stock, which is a common advantage in the online market: this brand sells exclusive and limited collections and pieces.
Unlike The Fabricant, Carlings' pieces are not extremely overpriced.
The first Carlings garment, for example, launched in 2018, could be bought for something between €10 and €30.
But what no one says out there is that, even with so much cool stuff here and there, there are specific obstacles behind the scenes of creating digital fashion.
Gucci
Of course, the incredible Gucci, a global trendsetter, would not be left out of this list. That was a controversial episode in 2021 when the Italian company launched the Gucci Virtual 25, a collection of sneakers that started at US$12.
The shoe can be viewed on the client's feet through augmented reality app filters and then transferred to games.
The same happened with a bag that Gucci decided to launch in the real-life world and also in the virtual game Roblox. And, believe it, the digital version was way more expensive! In the end, this type of action brings brand recognition that always converts into sales when done right.
Learn more: Digital transformation: benefits and impacts on industries and clothing
Dressx
Dressx is the largest digital fashion store that presents 3D digital clothing collections from the most well-known contemporary brands that were born both in the physical world and in the digital space.
A major clothing platform in this market, DressX believes that much more clothing is produced today than humanity needs.
The brand, which exists only digitally, also connects with the metaverse, offering the possibility to buy NFTs – and is a great promoter of digital fashion.
As Dressx is not a clothing company, it gets many partnerships with various brands in the fashion world to launch collections, such as the fashion magazine L'Officiel.
Learn more: Integration between software and machines for even more efficient clothing
How to create virtual clothes with Audaces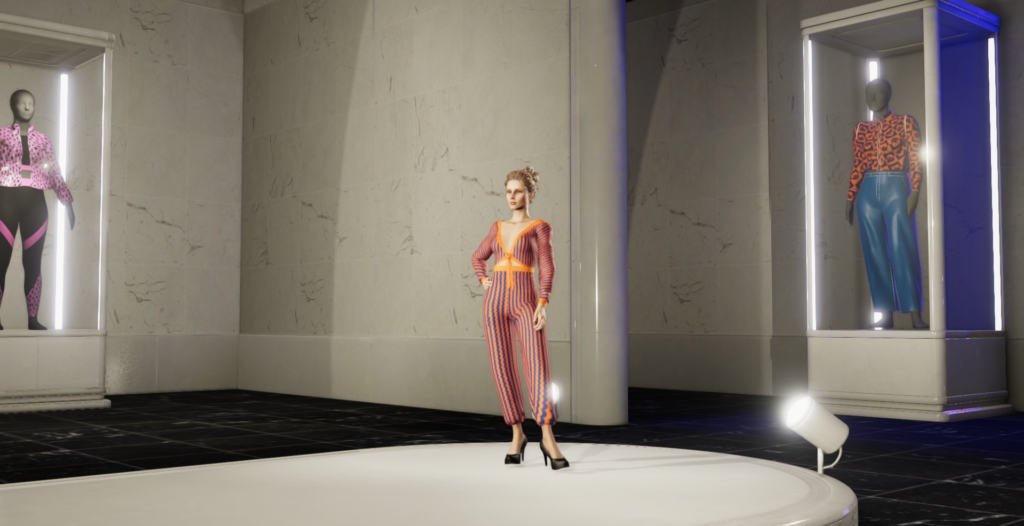 Designing virtual clothes with Audaces is very easy. We have more than one solution for this, but today we will focus on Audaces Fashion Studio, our digital fashion design system. It works perfectly for both virtual and physical clothing.
With Audaces Fashion Studio, you:
Create 3D models without having to develop the patterns
View your fabrics, colors, and finishes in each model
Present designs in 3D for your client to approve them visually, without the need to spend raw materials
Avoid wasting time, money, and material;
Approve different model versions
Integrate your real-time operations with print designers, and more!
Audaces Fashion Studio is part of Industry 4.0. It's the present and the future of the fashion market.
Get more realism, speed, and optimization with our 3D content creation tools!
Check out our free e-book below to see how easy it is to make digital fashion with Audaces: