Summary:
Virtual fashion design has been increasing on the global market nowadays, providing more agility and precision to the creative processes;
With 3D fashion, it's much easier to visualize and adjust the pieces in a realistic way! You're also able to test style variations, reduce sample pieces, and approve patterns digitally;
Create your collection in Audaces Fashion Studio, online and easily. Get the Audaces360 multi-solution free trial now!

Designing entire collections manually, having more expenses with patterns, redoing pieces that didn't get the right fit… That's all in the past now!
Virtual fashion design came up to help stylists, designers, and modelers who work with precision, time optimization, and agility in their everyday routines.
Get to know what is virtual fashion design and how it can help your clothing company with better collections!
Why use virtual design for fashion clothing?
Technology is present all around. Smart lamps, virtual assistants, super modern smartphones, and online meetings… Digital solutions are here to make things easier in our everyday life. So why not use virtual design to facilitate work routines in the fashion industry too?
There are several ways to apply technology to fashion, and virtual design is one of them. It must and should be used in the clothing industry, as it brings more agility to the collections' creation and ensures more precision in the processes.
Learn more: Integration between software and machines for even more efficient clothing
But what is virtual fashion design, after all?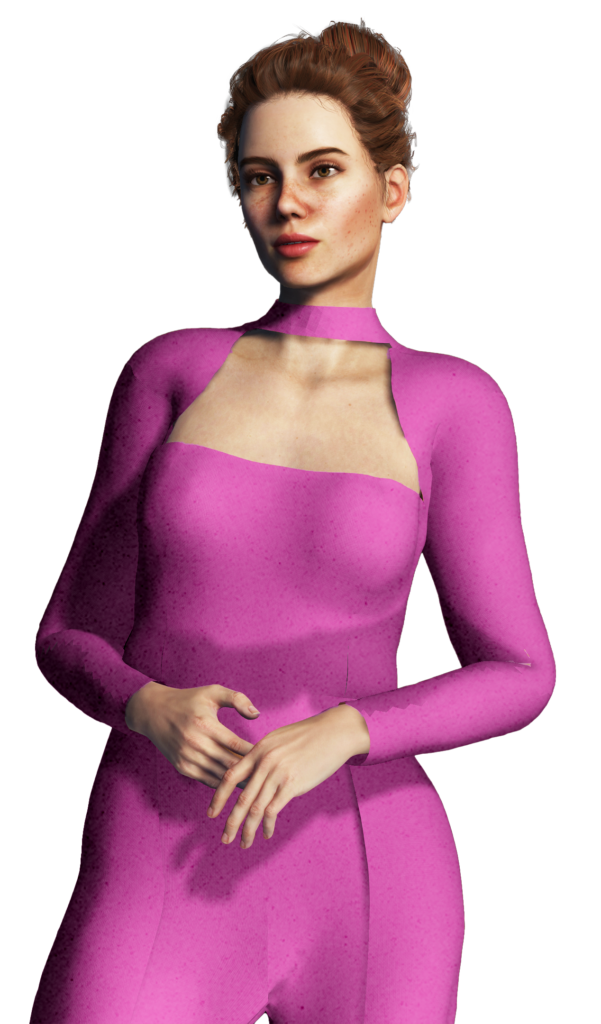 Virtual design helps to create clothing pieces, allowing a better view of the fit and the cut of the garments – and in Fashion Studio, a unique Audaces solution, you make all this without having to make real patterns.
Virtual fashion design optimizes the whole creative process, making your work perform much better. Instead of going through several steps to develop a clothing piece and checking or redoing it if there's an error, you can do everything digitally, bringing more agility to the process.
Learn more: Designing clothes: 10 tips to create amazing looks
How does virtual fashion design work?
Virtual fashion design it's made online, but it also can be done manually and scanned after that. Therefore, you can view and adjust the garment realistically, test the style variation, reduce the sample pieces and optimize the approval of the models.
Collections created by 3D stylists or designers have been developed in a completely digital way worldwide. And not only in the fashion industry. See how this technology is influent in other markets:
Virtual design in the gaming world
Virtual reality design has been widely used in video games. The skins (different clothing options used by the characters) are an important feature.
They can change the avatar's appearance and tell a story, affecting the user experience positively – that's why they are becoming so popular. With the rise of digital fashion, big brands are entering this space too, producing virtual goods and apparel for players.
3D fashion design in movies and tv series
3D fashion is also present in movies and series we watch. In costumes like superhero outfits or accessories, like the crown used by Hollywood actress Angela Bassett in Marvel's Black Panther, for example.
The adornment was digitally created – with a complex 3D structure made with software – then printed on a 3D printer.
Learn more: Integration between software and machines for even more efficient clothing
Every fashion designer can be a virtual designer?
Yes – all you have to do is learn and try! Nowadays technology helps stylists and designers create their models on super-realistic 3D mannequins. The professional can design and visualize the sketches without needing real patterns, so the work is easier and faster.
In addition to stylists, 3D designers and game designers can also use virtual tools that improve their creations.
How to do virtual fashion design?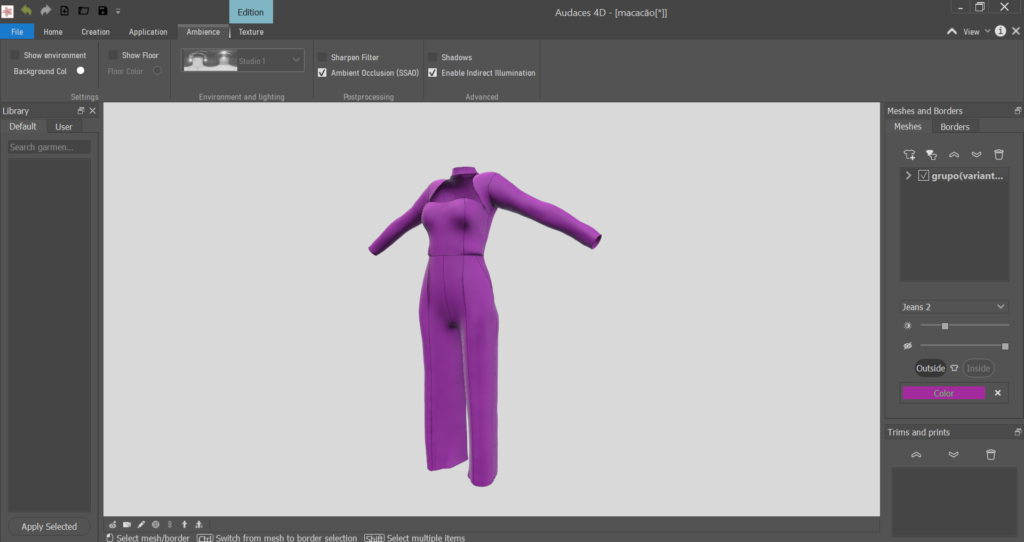 If this is your question, there's something we can tell you in advance: technology will be your biggest ally on this task. But there's more!
Creativity
Needless to say, creativity is a must when it comes to creating a collection. But there are other skills and items to watch if you want to create a virtual drawing. Let's see some of them.
Detailed Information
The person in charge of the designs must have all the information about the product clearly. Working with as many details as possible helps not only the agility of the process but also the final piece to look the same as the one designed by the stylist or designer.
Technical knowledge
Another thing to look out for: the creator in charge of the virtual design must have basic knowledge of fabrics, modeling, and sewing. As a result, the information about the technical design is better communicated (and demanded).
Ergonomic knowledge
Understanding the fit of the clothing pieces and which fabric looks better on certain biotypes helps a lot with the graphic representation of the garment. Keep an eye on that!
Technology
Having good software at your disposal for creating virtual designs is very important for you to visualize the models in avatars, with true-to-life attributes.
Besides, working with 3D pattern software helps you accelerate the development of your collection!
Learn more:  Textile Industry 4.0: the revolution that all clothing needed
Benefits of virtual design
If you still create your collections by researching, modeling, cutting, and manually designing each piece, it's time to open your mind to the advantages of virtual design!
4.0 technology has been developed to speed up the process of creating and approving collections. It allows the visualization of the clothing pieces before they are ready, so you (or the professionals in charge) can check the exact depth, texture, and fit of the chosen fabric.
Digital fashion design can even be life-changing. And, of course, it brings many advantages to fashion industry professionals' routines. Find out what they are:
1) Simulate the desired fit without creating patterns
For a perfect fit, you must analyze the piece very well in every aspect. With 3D fashion design, you get the most realistic simulation of the desired fit without using (or knowing how to make) patterns.
You save time and resources by not having to recreate the piece manually until it looks the way you pictured.
2) View and adjust pieces for free
With the 3D virtual design, you have more agility to adjust some detail in the pieces of your collection. It's much more practical to observe styles immediately in avatars and make all the necessary adjustments.
3) Test style variations
Also, with virtual design, you can test variations of styles in the pieces of your collection, having a 360º view of the avatar, being able to observe better each detail and how the variations are, without the need to create patterns or other pieces manually.
4) Reduce the number of patterns and clothing samples
Virtual design helps in the reduction of patterns and clothing samples as well, generating savings when assembling a collection.
With 3D design technology, you can reduce costs and materials by adjusting pieces, testing style variations, and approving whole collections 100% virtually.
5) Approve your models 100% digitally
Showcase your collection anytime and anywhere, just share it with the team and your pieces will be analyzed by whomever you want.
Brands that use virtual designs on Metaverse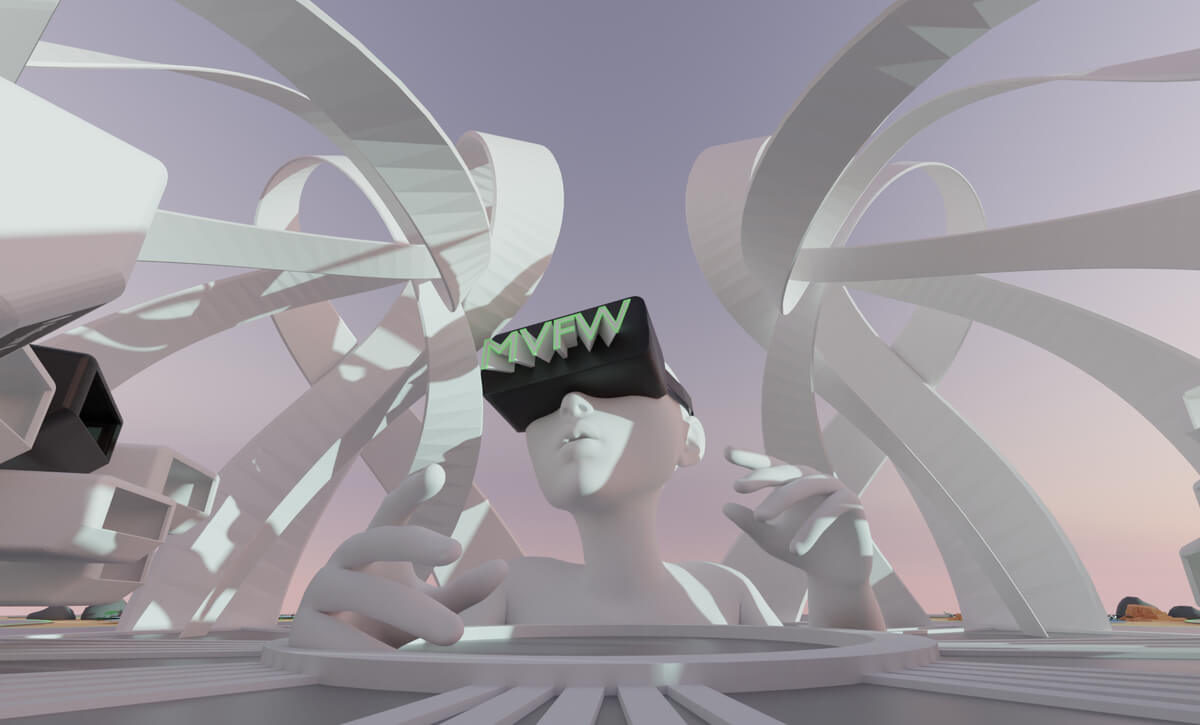 It's impossible not to mention how virtual design is present in the metaverse.
High-end fashion brands and fashion houses like Dolce & Gabanna, Tommy Hilfiger, and Paco Rabanne kicked off the Metaverse Fashion Week at Decentraland.
Besides the experience of watching the fashion shows virtually, the event also sold NFT clothes and accessories. In total, more than 50 brands from all over the world were present at the Metaverse Fashion Week.
Another big brand that has a relevant presence in the metaverse is Nike. The company has its own world, Nikeland, inside the game called Roblox.
And that's not all: the company also creates and sells sneakers in the virtual world. Although users cannot wear their sneakers in the real world, the company has created a filter on Snapchat, so customers can show their models in Augmented Reality (AR).
Nike is not alone in the metaverse. Luxury brands like Gucci, Ralph Lauren, and Burberry have also been investing in their spaces in the virtual universe. On WEB3, users can buy their "skins" and other luxury accessories.
These items are released on a limited basis and, as real-life items have their certificates of authenticity, it's not different in the virtual world. In metaverse, they receive an NFT ownership certification of the digital file as well.
Digitalize your virtual fashion designs with Audaces360 multi-solution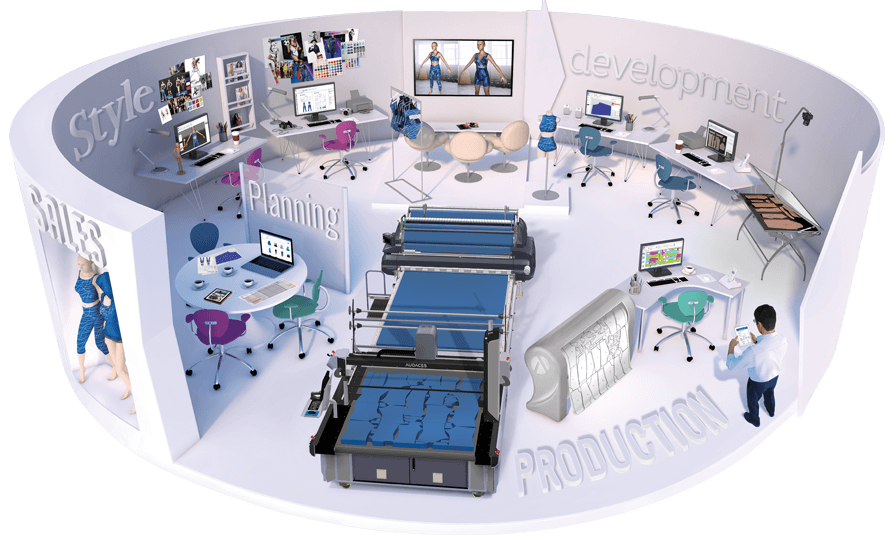 Innovation is the word to describe Audaces360, a complete multi-solution for the fashion market, enhancing several steps of the fashion creation process with agility.
Companies often seek resources to reach their goals effectively and practically. With Audaces360, you achieve this result with resource savings, better outcomes, and time optimization.
Audaces Fashion Studio
Audaces Fashion Studio is a software created to improve and speed up the creation processes, a revolution in virtual fashion design.
Easy to use, Fashion Studio is a super-modern tool that allows you to work in a 3D interface, where you can simulate several aspects of the creation, such as fit, textures, and different materials. And it's possible to test all these details in hyper-realistic avatars.
Audaces 3D
Have you been facing problems in the development of your collections? Do you often have to remake pieces, wasting time and resources?
With Audaces 3D, you can approve designs, styles, and modeling online. You can also check the piece's wearability, saving time and costs with prototyping and reducing the number of clothing samples.
Want to learn how Audaces can help your garment company to create collections more assertively and quickly? Download our e-book for free: