Summary:
For apparel companies to maintain consistent sizing, international manufacturers utilize clothing measurement charts;
Although there is no single universal standard, these parameters assist in fashion design and guide customers when shopping, especially online;
Audaces supports your apparel company in the various stages of production, including standardization and quality control. Get the free trial of Audaces360 multi-solution and discover more!

Understanding the importance of clothing size charts is easy to imagine, as all it takes is to enter a store and not find a piece with a design that fits you, which can be very frustrating.
This is a common issue for many shoppers due to the lack of a reliable system of clothing sizes (and charts).
Even something as simple as picking out a new outfit may become a difficult task for those with body proportions not covered by most clothing measurement charts, still nowadays stuck in outdated standards.
In countries like Brazil, there is an entity that regulates garment sizes based on studies on the local population's body measurements.
Unfortunately, there is no single standardization of clothing measurements around the world. Every country must conduct its own anthropometric surveys to develop its own references.
Do you want to understand why debating these parameters is so essential to the fashion industry? We have prepared a comprehensive article on the subject, outlining how a wide and well-planned clothing measurements chart can be beneficial to everyone.
Read on!
When did we start to standardize measurements in fashion?
The dawn of the industrial revolution in the 18th century paved the way for the textile industry's growth, allowing the production of clothing on a large scale in the following century.
To this end, anthropometric studies were carried out for the clothing industry, which made the first sizing grids possible for mass production.
This type of production bloomed after the Second World War and, with the introduction of prêt-à-porter (or ready-to-wear) fashion, major brands were able to make their designs accessible to the masses, boosting the fashion industry with higher quality products and a variety of styles.
Even though there was a general standard for body sizes, there was no unified criterion for clothing measurements as each company had individualized measurements.
In other words, there were no universal parameters. This changed in 1969 when the International Organization for Standardization (ISO) determined that each country should use national biotypes to standardize its measurements.
Clothing measurements charts around the world
Navigating clothing sizes can be tricky, particularly when shopping internationally and for buyers who are not familiar with international measurement standards.
Various countries have their own size systems, making it difficult to make purchasing decisions without consulting a conversion table.
For instance, European nations such as Belgium, Spain, and Portugal use sizes based on the French standard (the Italian sizes are similar to or the same as French sizes too).
British sizes are usually the same as those used in Australia and New Zealand. The Netherlands, Austria, Sweden, Switzerland, Denmark, and Norway use German sizes.
India, on the other hand, has its own unique size chart. To ensure that national and international retailers can produce garments suitable for Indian body types, the Ministry of Textiles, Govt. of India, sanctioned the INDIAsize project.
Therefore, to avoid confusion when shopping overseas, it's wise to refer to a conversion table.
This will provide an approximate idea of the corresponding measurements in other parts of the world, once, as said before, there is no universal clothing measurement chart.
See an example of a conversion table for women's clothing sizes below: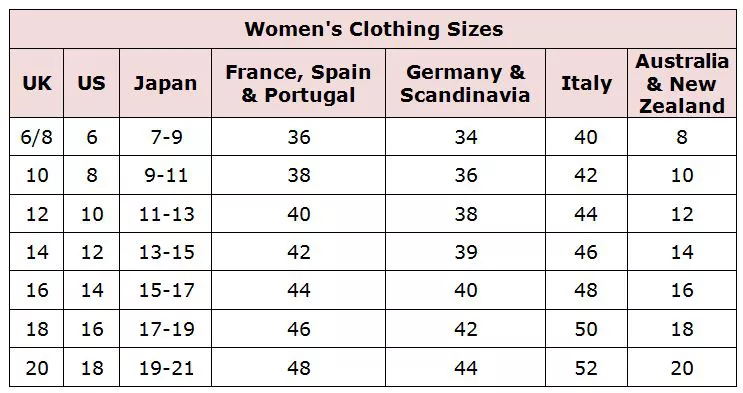 How are the measurements of a body collected?
It is very important to understand the proper way to acquire measurements from the body. Incorrect placement of the tape measure can lead to a discrepancy in the size of the garment.
The person should be wearing lightweight attire which is fitted close to the body. Additionally, they should stand upright while the measurements are taken. It is important to avoid squeezing the areas where the tape measure is applied and to keep it firmly in place.
What are the benefits of a clothing measurements chart?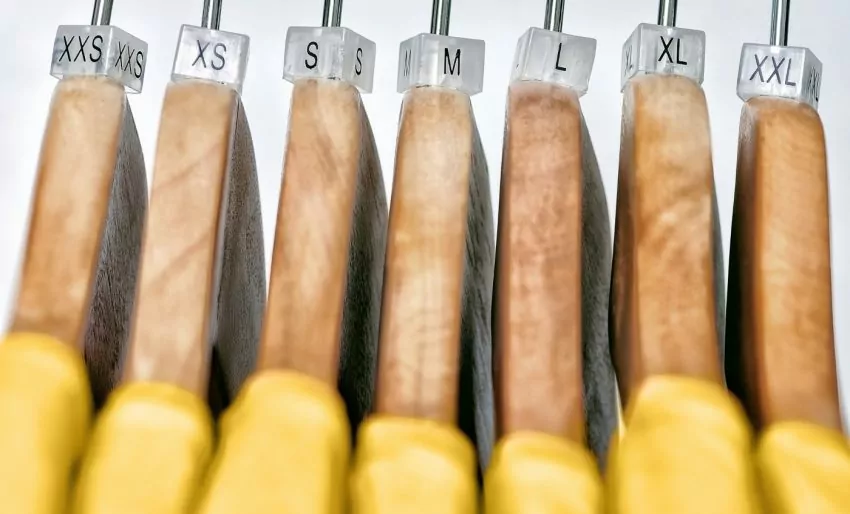 Clothing measurement charts provide numerous advantages, both for fashion companies and consumers alike.
Although they are not mandatory for use by clothing companies, these charts serve as a useful tool for brands to better accommodate the diversity of biotypes, since the references have already been studied, discussed, and approved by area experts.
As a result of the lack of standardization, the fashion consumer might see an experience that should be pleasurable turn into a tiresome search for a piece in the right size, comfortable, and with a good fit.
From product development to the purchasing process, respecting the measurement parameters most applied in each country provides several benefits.
Check out some of them:
1. Helps to identify the biotypes of the target audience
The measurement table is an invaluable asset for accurately identifying the biotypes of a target audience. With this data, it is much simpler to determine which individuals are purchasing a particular item, as well as which sizes are most frequently sold. This information can then be used as a reference for future developments.
Working with tables that are tailored to different body shapes, sizes, and proportions makes it easier to comprehend measurements, build foundations, and craft high-quality molds.
2. Facilitates pattern making
The clothing measurement table is indispensable for successful pattern making, as it plays a crucial role in the quality of the final product.
Working with tables that are tailored to different body shapes, sizes, and proportions makes it easier to comprehend measurements, build foundations, and craft high-quality patterns.
The result of a pattern made considering a measurement chart, studied to apply to the body diversity of consumers, are ergonomic and aesthetically pleasing outfits.
Thus, the standardization of the clothing measurement charts also optimizes the process of reusing foundations and the gradation of patterns for sizes beyond the sample piece.
3. Reduces material waste
Standardized measurement charts serve as a foundation for the development, design, patternmaking, and quality control of products, thus enabling a decrease in waste and discarded materials.
This is because it is possible to guarantee a lower rate of errors and rework, making the production process far more eco-friendly right from the start.
By adhering to the standardized size grids, it is possible to ensure better fit and comfort in the garments. This is beneficial when shopping in physical stores where trying on clothes is not possible, and when making purchases online. By taking into account the measurements and anatomy of the person wearing the clothes, shopping becomes much less of a hassle and devoid of disappointment
Learn more:  Why consider sustainable consumption and production for your company?
4. Enhances shopping experiences
By adhering to the standardized size grids, it is possible to ensure better fit and comfort in the garments. This is beneficial when shopping in physical stores that don't allow trying clothes on, and when making purchases online.
By considering the measurements and anatomy of the person wearing the clothes, shopping becomes much less of a hassle.
5. Reduces fitting time
A very common situation is when a customer takes multiple sizes of the same item to the dressing room to find out which one fits best.
The time one single customer spends inside the store without making a purchase can be long. Unfortunately, the person might feel dissatisfied and end up not buying any item at all.
So, when a fashion collection has a well-crafted size chart, the fitting process gets much shorter, preventing the consumer from feeling disappointed.
After all, why should someone's desire to buy a product be thwarted due to the incompatibility of measurements?
6. Decreases the occurrence of product exchanges and returns
Product exchanges and returns can be costly for manufacturers, as they have to restock the item and the profit margin is significantly lower.
In addition, the high rate of rejected pieces also results in a lack of trust in the brand and high operating costs in retail.
7. Loyal customers
When customers experience a product or service that meets their expectations, they are likely to purchase again and recommend the brand. To ensure customer loyalty, it is essential to provide a product that fits properly and looks attractive.
If customers find clothing that is visually appealing and comfortably fits, they will certainly come back.
8. Makes fashion more inclusive and democratic
Perhaps one of the most important topics at the moment for fashion consumers, alongside sustainability, is fashion for all bodies.
There is a growing number of brands that have extended their size ranges to include more plus-size options. But to further democratize access to fashion, garments must be based on the latest anthropometric studies conducted by countries.
Learn more: How to create a flawless fashion spec sheet
The size-inclusive brands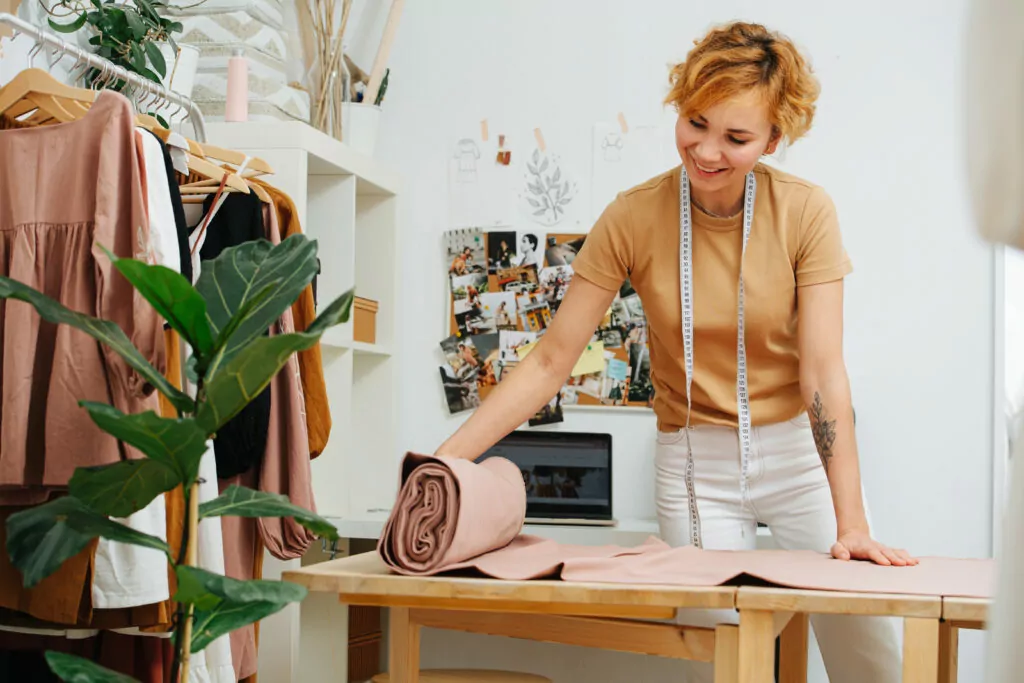 The fashion industry must keep up with the changing times if it is to remain relevant.
Size inclusion has been a hot debate in the fashion industry for some time now.
But thankfully, size-inclusive brands are becoming increasingly available, granting women of all body types and sizes the freedom to express themselves through fashion.
Universal Standard, for example, is an inclusive clothing line from the United States that caters to a broad range of sizes and even offers a virtual styling program with sessions lasting from fifteen to sixty minutes.
In India, Ikkivi, another size-inclusive brand, offers designer pieces from 2XS to 5XL. The plus size market is also on the rise in the country, as this article illustrates.
Moreover, 3D technology is making great strides in this regard.
How the clothing measurements chart facilitates pattern creation and grading?
As we have seen so far, the standardization of measurements for garments offers a range of advantages for clothing businesses, retailers, and, most importantly, shoppers.
After all, let it be clear: a standardization of sizes does not mean a smaller variety of sizes – which, by the way, can and must represent different biotypes.
In clothing, the pattern-making stage gets more beneficial when there is the standardization of measures, as this is a crucial phase for the quality and the result of the product.
This way, the same pattern can be used to produce garments in several different sizes. Additionally, the clothing measurements chart makes it easier to check if the size is accurate.
Say goodbye to rework: standardized measures now!
Interpreting the data for patternmaking is made simpler and faster with standard measurements, allowing professionals to save time and eliminate rework in grading.
This is because by having an organized and detailed measurement chart (with all information needed and well-planned proportions for the different biotypes), the grading of the patterns becomes more efficient and effortless.
Software like Audaces Pattern gives even better results, with features that automate the pattern grading based on standard measurements or user-defined measurements.
Standardize your clothing measurements chart with Audaces Pattern
Depending on the company, grading one-piece patterns can take hours or even days to complete.
Audaces Pattern makes it simpler and faster, allowing you to grade patterns with just a few clicks and reducing the time dedicated to this task.
If you want to learn more about Audaces Pattern and all the Audaces360 tools for creation, development, and production, contact an Audaces' sales consultant.
Our team is ready to listen to your clothing challenges and provide the best solutions in the fashion industry.
Conclusion 
In conclusion, the clothing measurements chart presents advantages for both companies and the final consumer.
This standardization allows for a greater understanding of the parameters to be applied in production and how to contemplate the different biotypes.
Finally, with standardization, fashion companies can know better the amount of fabric they should use.
In addition, for the customers, it is easier to choose their garments (particularly online) and build loyalty to the brand.
For a more comprehensive understanding of this topic, download our free e-book that tells you everything you need to know about digital modeling:
FAQ
What is the function of the clothing measurements chart?
The clothing measurements chart provides a universal standard by which to measure all types of garments. This allows garments of any size, regardless of the company, to be created with equal proportions.
Where can you notice the benefits of standardizing measurements?
The advantages of standardizing measurements can be seen in various steps of the garment creation process, including patternmaking, cutting, sewing, wholesale, retail, and e-commerce. Everyone involved in production can work more efficiently with the same size grid.
How to collect body measurements?
For accurate measurements, it is best to wear tight and light clothing and to keep an upright posture. The measuring tape should be wrapped around the body without squeezing it, but still fitting snugly.