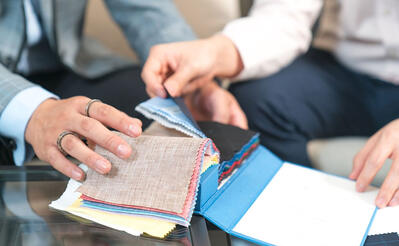 24/09/2020
Correct fabric for clothing: see which fabric is suitable for each type of garment
There is no more right and wrong in the fashion world. This phrase may not be an absolute truth. Choosing the right or most suitable fabric for clothing allows the developed piece to have better acceptance and result in good sales.
Choosing the right fabric for clothes already guarantees a 50% chance of the garment works. The fabric influences the final comfort of the piece and the fit in the modeling, but also the texture and the perception of the piece from the point of view of creation. The catwalk trends are indications of what will be used next season, being widely used as references for patterns, embroidery, and colors.
The fabrics vary according to their raw materials, and the weave may be more closed or more open, heavier, or lighter, depending on how the threads were interwoven.
So, we have separated some tips for you to be able to choose the correct fabric for clothes according to the garments.
Blouses
Cashmere and silk. Cashmere is a fine wool with a soft texture, obtained from the hair of goats from the Kashmir region, being very pleasant to the touch. Silk is considered the noblest fabric, as it is a natural fiber obtained from the production of the larva of the moth, popularly called the silkworm, and its thread offers strength, softness, and fineness.
Skirts and dresses
Wool crepe for the winter and chambray for the summer. The wool crepe has a pleasant texture for cold weather and is comfortable, having a great fit for having a thinner fabric. Chambray is similar to jeans, but its composition of a mixture of cotton and indigo threads makes the piece light and pleasant for the summer.
Coats
Twill and tweed. Twill is a more structured fabric and offers a good fit, being excellent for any climate, widely used in uniforms. Tweed is a more rustic fabric, made of carded wool, being very resistant and durable, widely used for winter, and popularized by Coco Chanel.
Party clothes
Georgette and chiffon crepe. The georgette crepe has a grained texture and has a good fit. It has been used in party dresses since 1910. Chiffon makes the garment very delicate, made from silk or other fibers, it is usually transparent.
Children's clothing
Flannel and cambric. The flannel is a very comfortable type of fabric and has a soft touch, being made of carded wool, it can be smooth or plaid. The cambric is a cotton and linen fabric, light and fine, originally from the city of Cambrai, in France, which guarantees the piece's delicacy.